COLOR TOUR: Puji & Oliver's Little House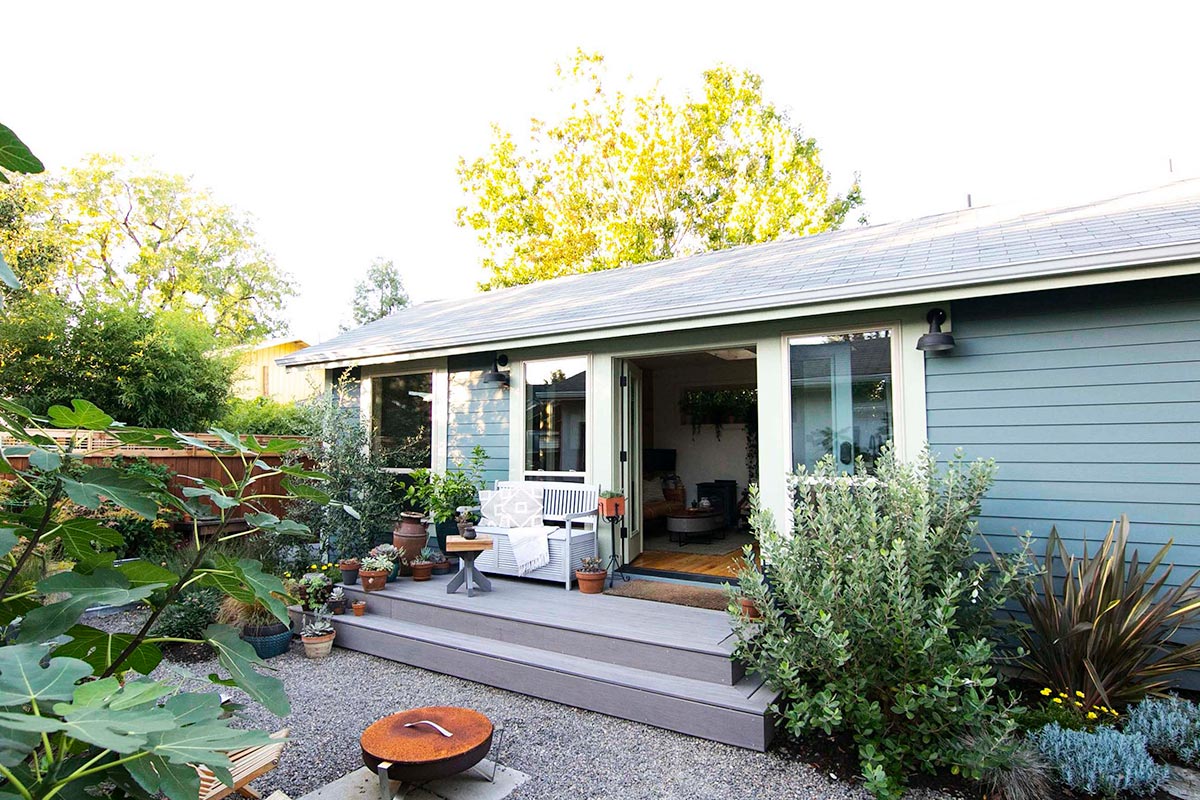 Puji, Director of Color Marketing for Miller Paint, and her husband Oliver recently built a 375-square foot ADU in the backyard of their property in the St. Johns neighborhood of North Portland. Tucked behind their original 2 bed, 2 bath house, both Puji and Oliver enjoy living small in their new space that they describe as "little, light, and relaxed." Exterior: Spacebox | 0493.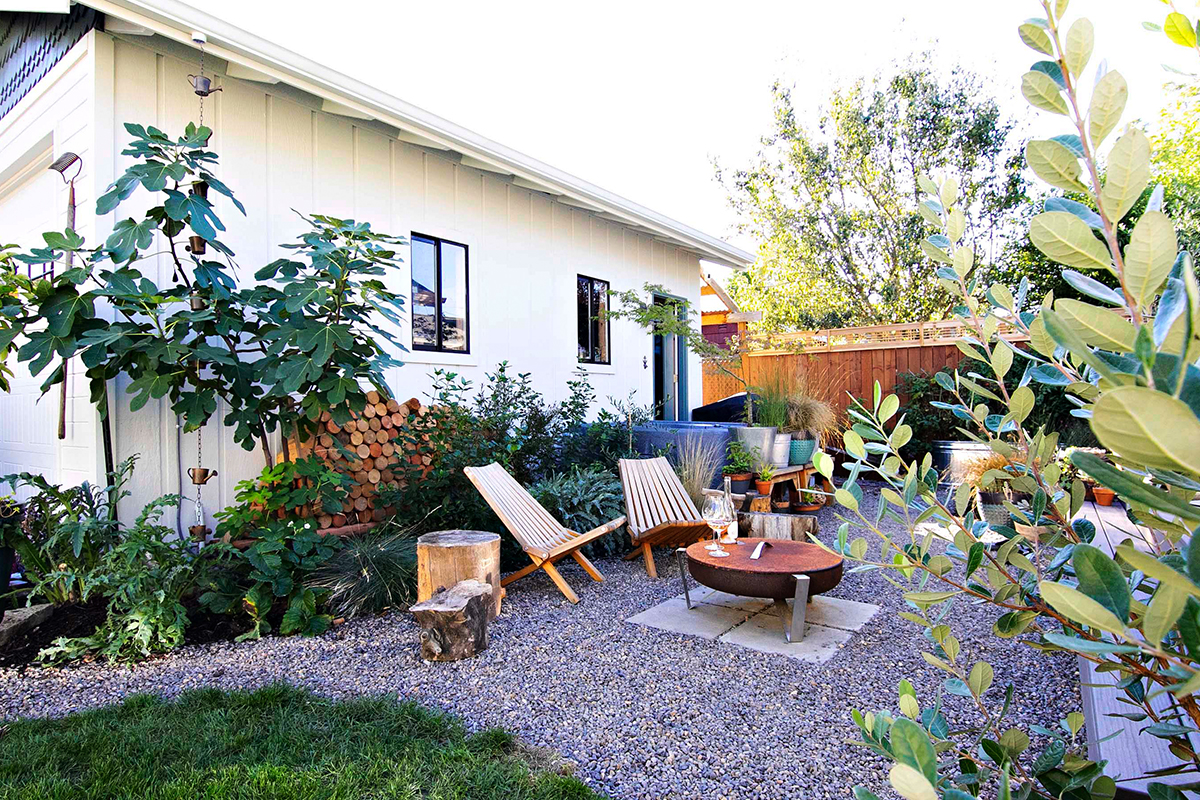 Puji and Oliver utilize the outdoor area between their small house and the property's original garage. They converted the garage to a multi-use space that houses Puji's ceramic studio, a sleeping loft, and den. Outside, the fire pit and hot tub come in handy during Portland's cooler months, and the couple spends many hours in this beautifully landscaped area on warmer days. Studio: Lady Nicole | 0030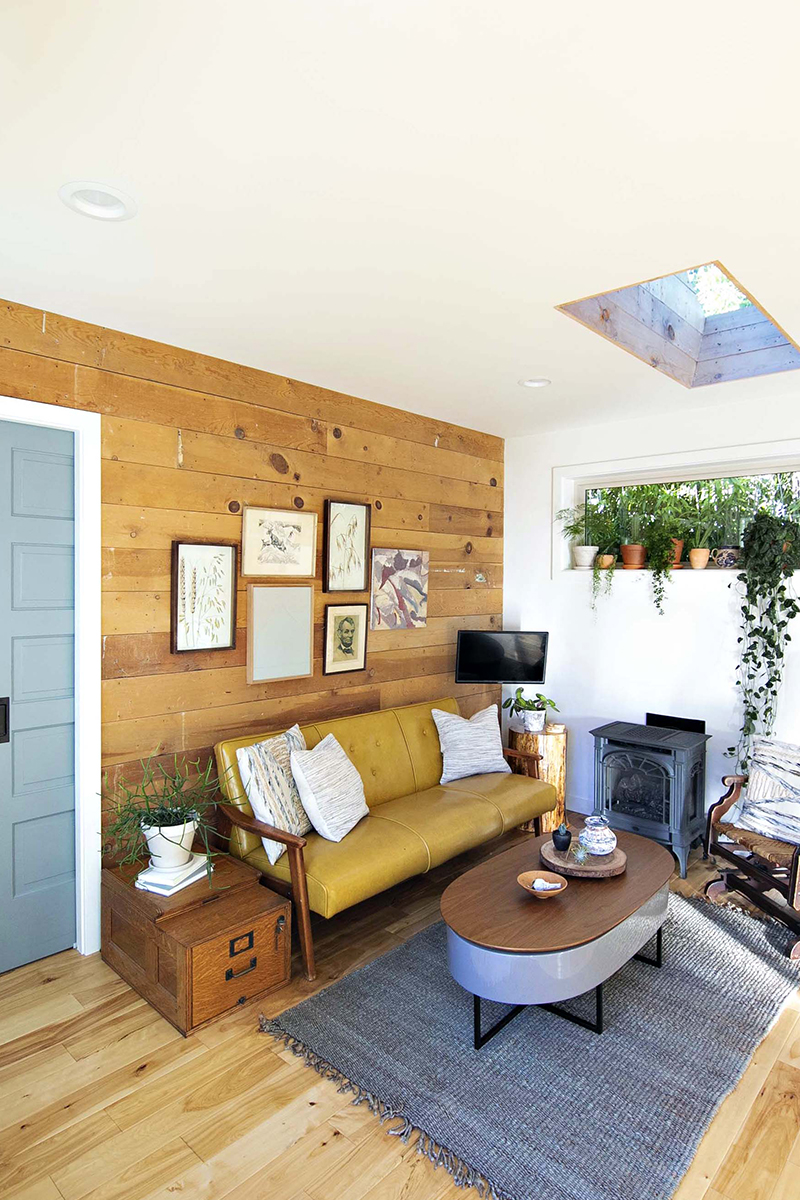 Step into the home, and you'll be greeted by an inviting living room, where warm tones and cool colors balance each other in pleasing ways. Puji calls this space "the hub of the tiny house- with doors that open to the front deck. It also has a gas fireplace and reclaimed wood wall that makes the space extra cozy for hang outs." The couple opted to paint the vintage doors they found at Portland's ReBuilding Center. "We used the doors as another surface to incorporate color and painted them a shade of gray/blue called London Road | 0527."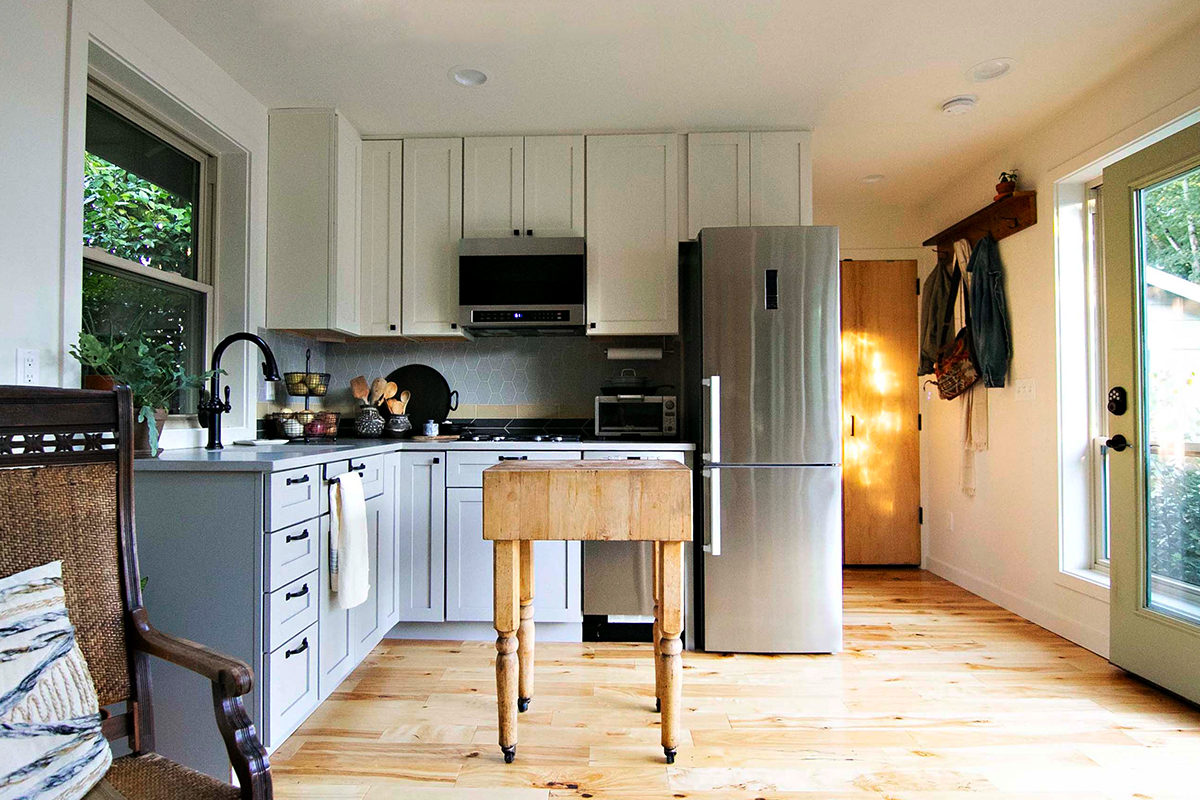 We asked Puji how she chose the colors for the interior of their home: "Since the house is so tiny, I knew I wanted to go with lighter hues to keep it feeling open and bright. However, we also wanted it to feel cozy and cabin-like which is why I chose a warmer white for the main space - Elusive White | 0002. We painted the walls and trim the same color in each room for a modern, monochromatic aesthetic."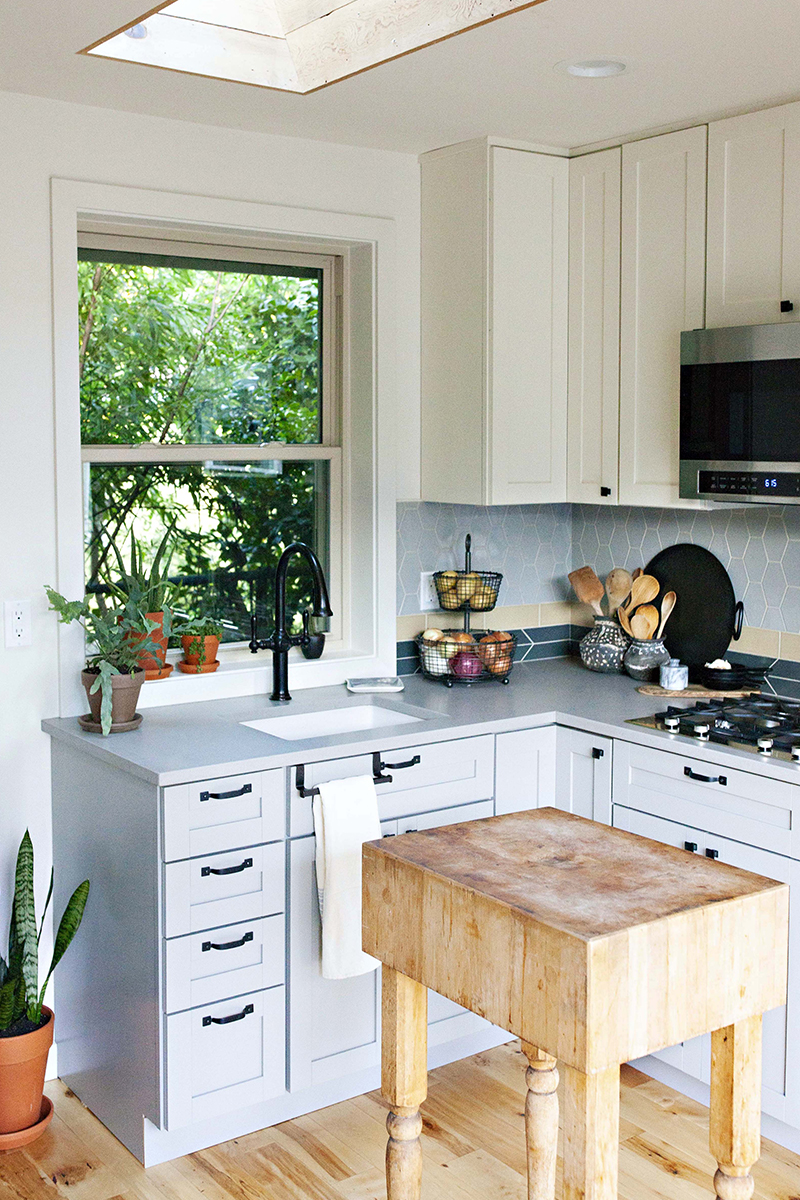 Light cascades down from a skylight in the kitchen, making windowsill plants very happy. Terracotta planters add a pop of color to this otherwise neutral palette. Want to get that earthy color on your wall? Puji says to try Peace of Mind | 1004.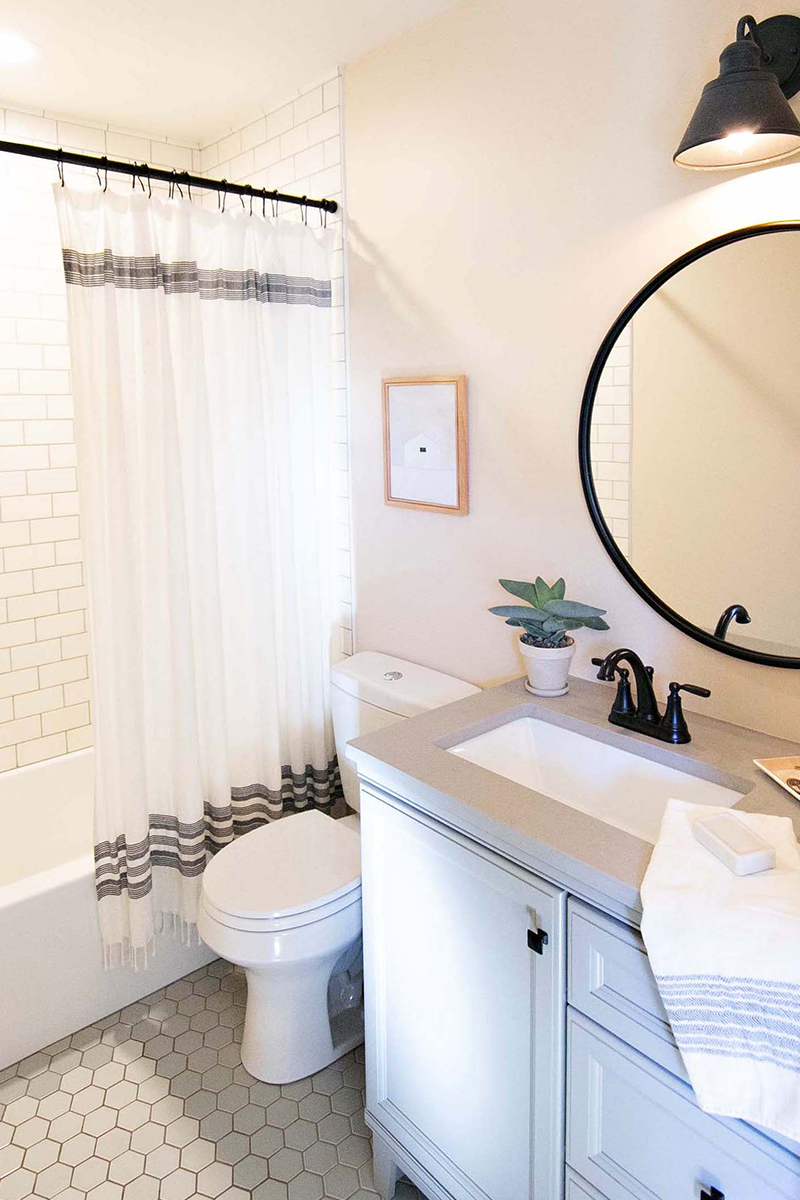 "The bathroom was the last room we painted. I waited awhile for that space, as I knew I wanted a warmer color, but was going back and forth between various shades of blush, ochre, and terracotta. Working on Miller Paint's 2021 Color Trends, I fell in love with one of the colors from this trend palette- Kingdom's Keys | 0160. This color rides the line between pink and peach and when painted in a bathroom, complements any complexion."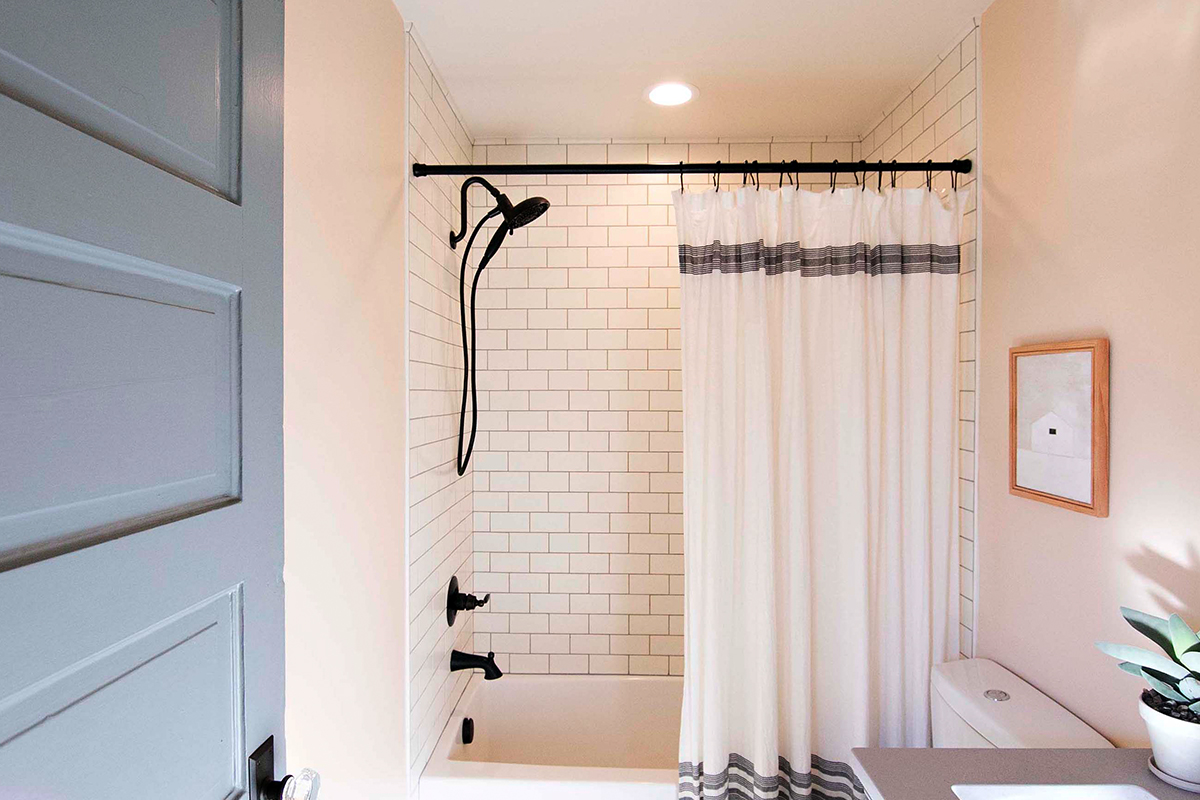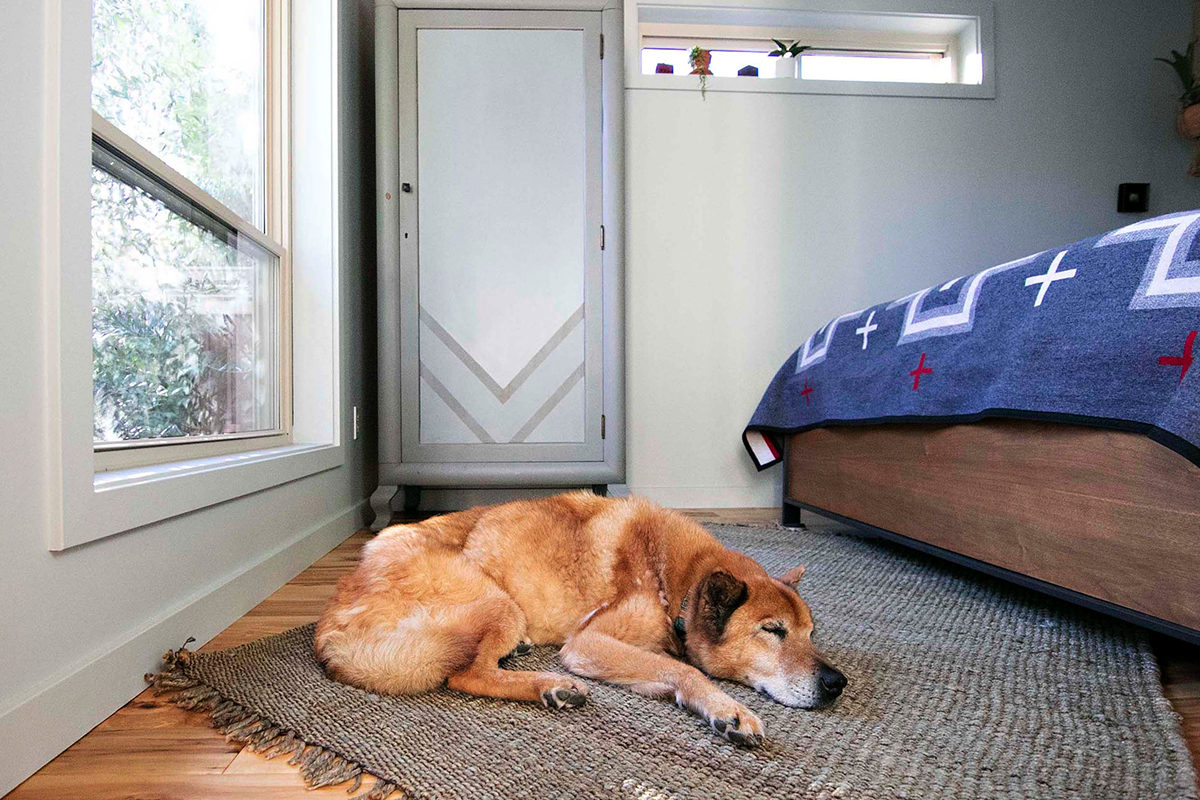 The couple was thrilled to be able to incorporate a full-size tub into the small footprint, and love how the warm Kingdom Keys | 0160 walls strike an engaging contrast with the vintage London Road | 0527 door. Puji shares more about her color selection process, "I believe that color is relative, so I look at how colors talk to each other in a palette versus as individual colors. I enjoyed the challenge of incorporating more color into 375 square feet! An easy solution would have been to paint everything white, but by keeping the colors in the main room, bathroom and bedroom the same value, I was able to add interest and variation with a few pastel hues like Dispatch | E0029 in the bedroom and Kingdom's Keys / 0160 in the bathroom and maintain the openness of the floor plan."
Puji and Oliver's 17 year old dog Goose naps in front of an antique armoire that Puji hand-painted using left over London Road | 0527. The piece adds visual interest to the space, but also plays an important storage role as it's the only closet for clothes in the home.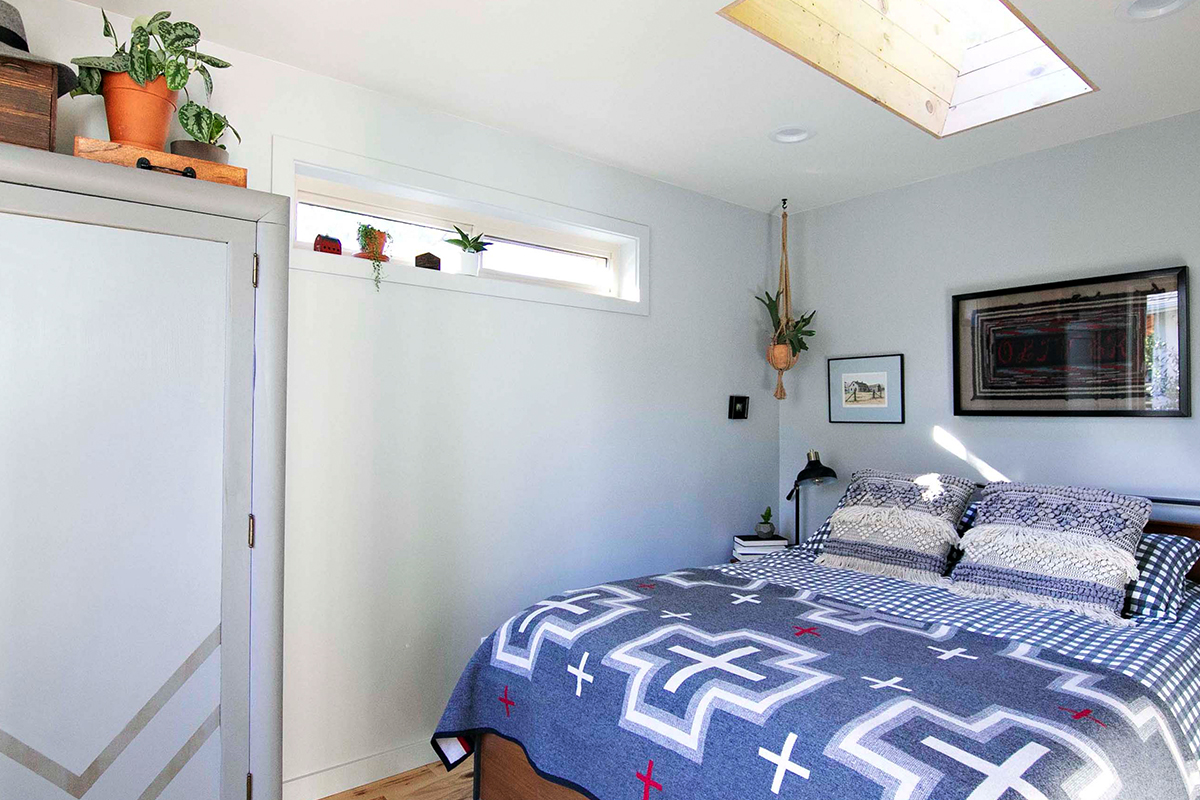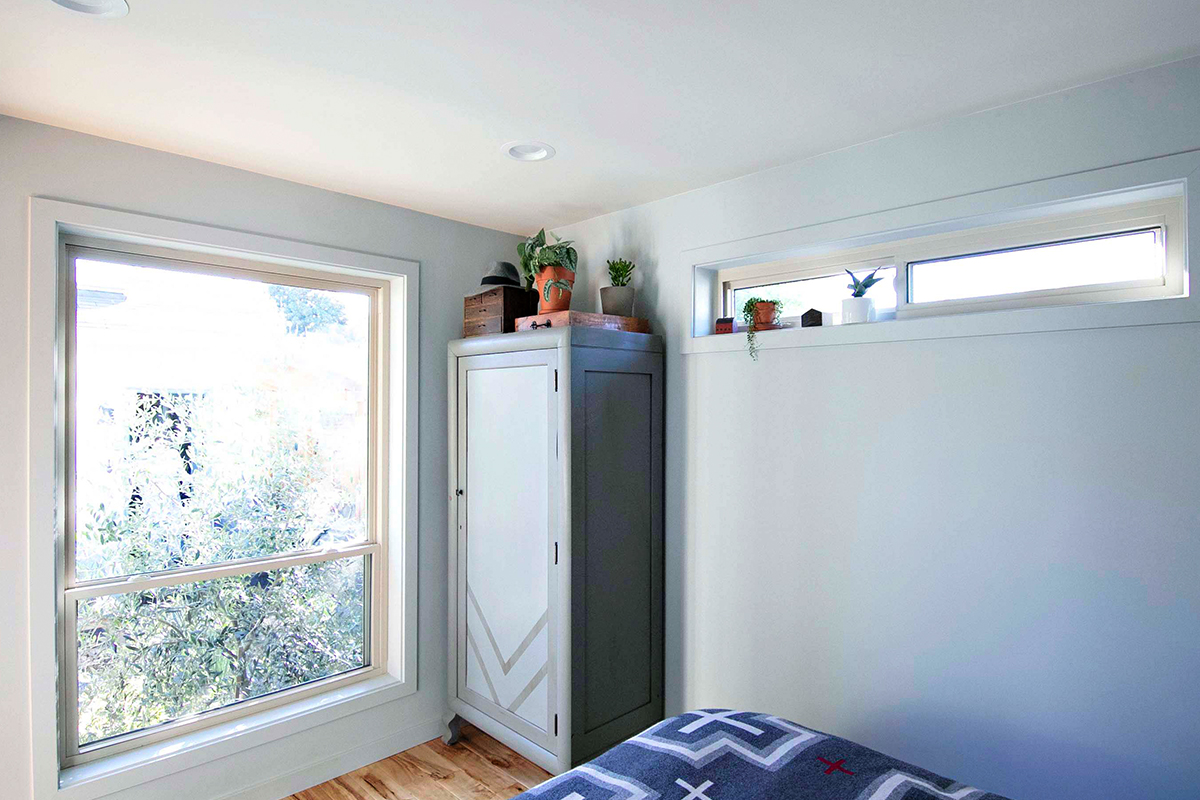 "For the bedroom, blue is a natural choice, as it is a restful and relaxing hue. Dispatch | E0029 has just enough gray in it to up the sophistication factor. Plus, it pairs beautifully with black fixtures and decor." Puji elaborates on the importance of color, "I love paint and color because it is so transformative. There is nothing else in the design process that makes as big of an impact on an existing space than a new, fresh coat of paint. Depending on what the space is used for, I often choose colors that support what is being done in a room. For example, I chose a calming blue for our bedroom to support relaxation, and I chose a warm white in our main room to encourage coziness."
The relatively small bedroom feels expansive not only because of the cool blue Dispatch | E0029 walls, but also because the couple was able to incorporate a large picture window into the design. "I love the windows. Honestly, without so much natural light, I am not sure that my husband and I would have been as happy quarantining in 375 square feet!"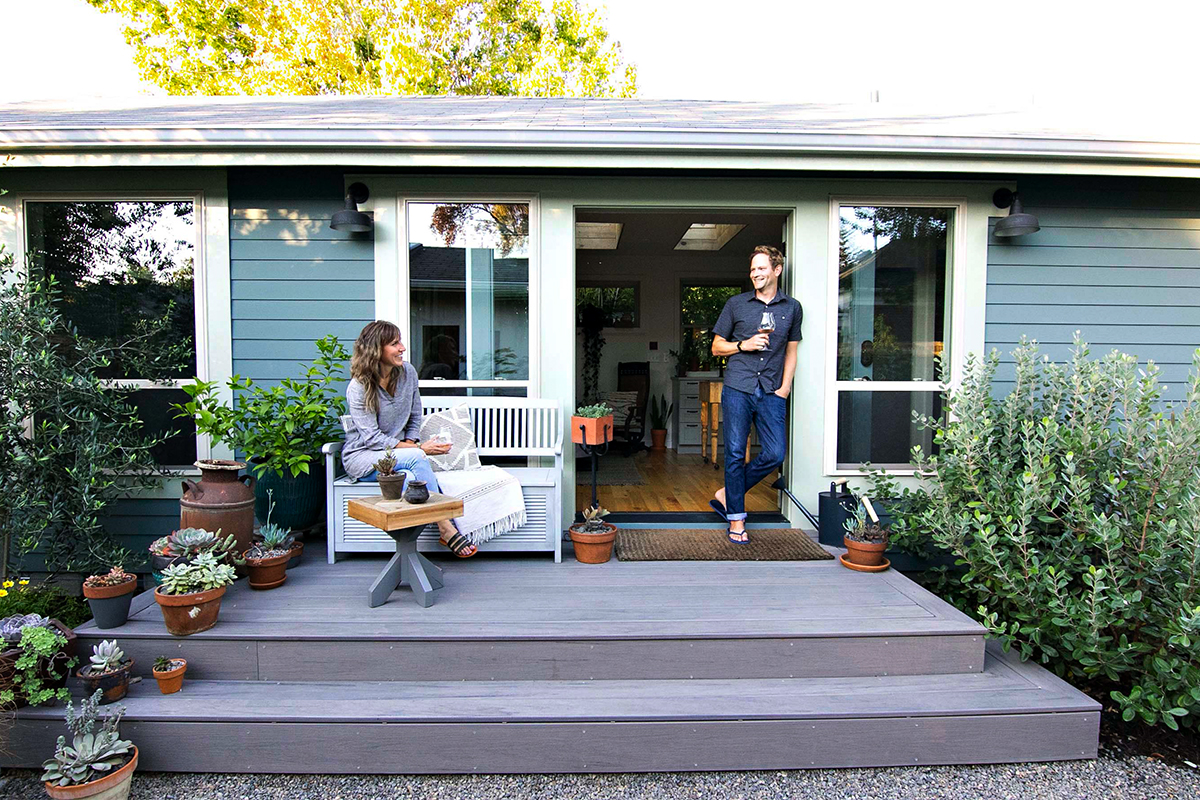 Where do you find color inspiration for your home? "I am constantly looking at inspiring designs and incredible uses of color to apply to my work at Miller Paint. Travel is my favorite source of inspiration, followed by real examples found in homes and businesses in the Pacific Northwest, as well as social media, magazines, and books. Honestly, color inspiration is everywhere if you are open to seeing it."
Puji and Oliver chose Spacebox | 0493 for the body of their home's exterior and Plume Grass | 0414 for the trim.
Thank you Puji and Oliver!