COLOR TOUR: Kim's Overlook Neighborhood Tudor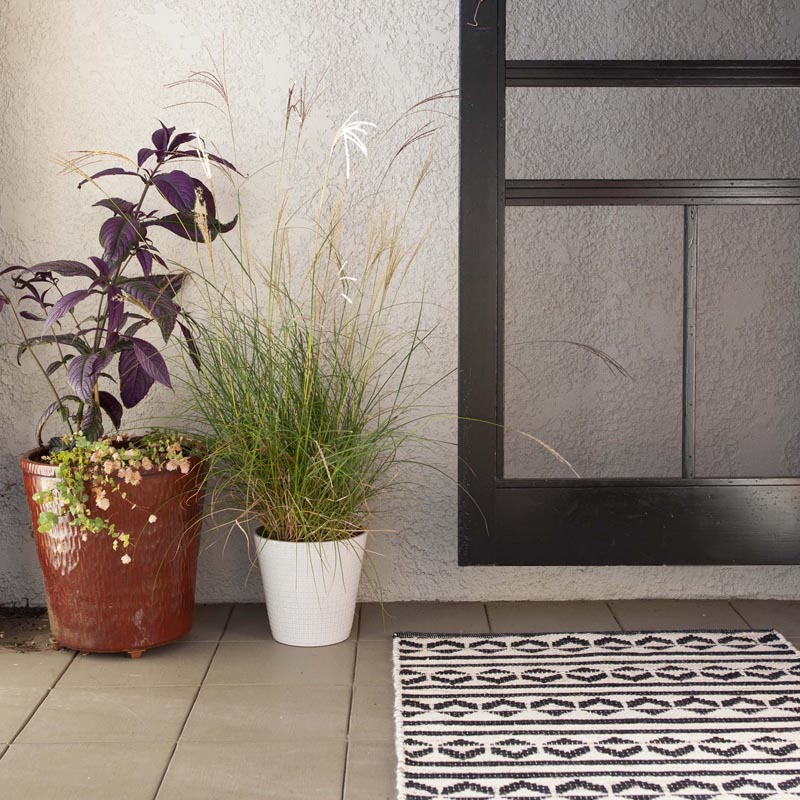 Kim is a residential realtor who lives in a 1929 Tudor that she describes as "special, warm, and relaxed." The exterior of her Overlook neighborhood home is painted Bauhaus Buff | E0128 which strikes a lovely contrast with the vintage home's original brickwork and black front door Subway | 1209.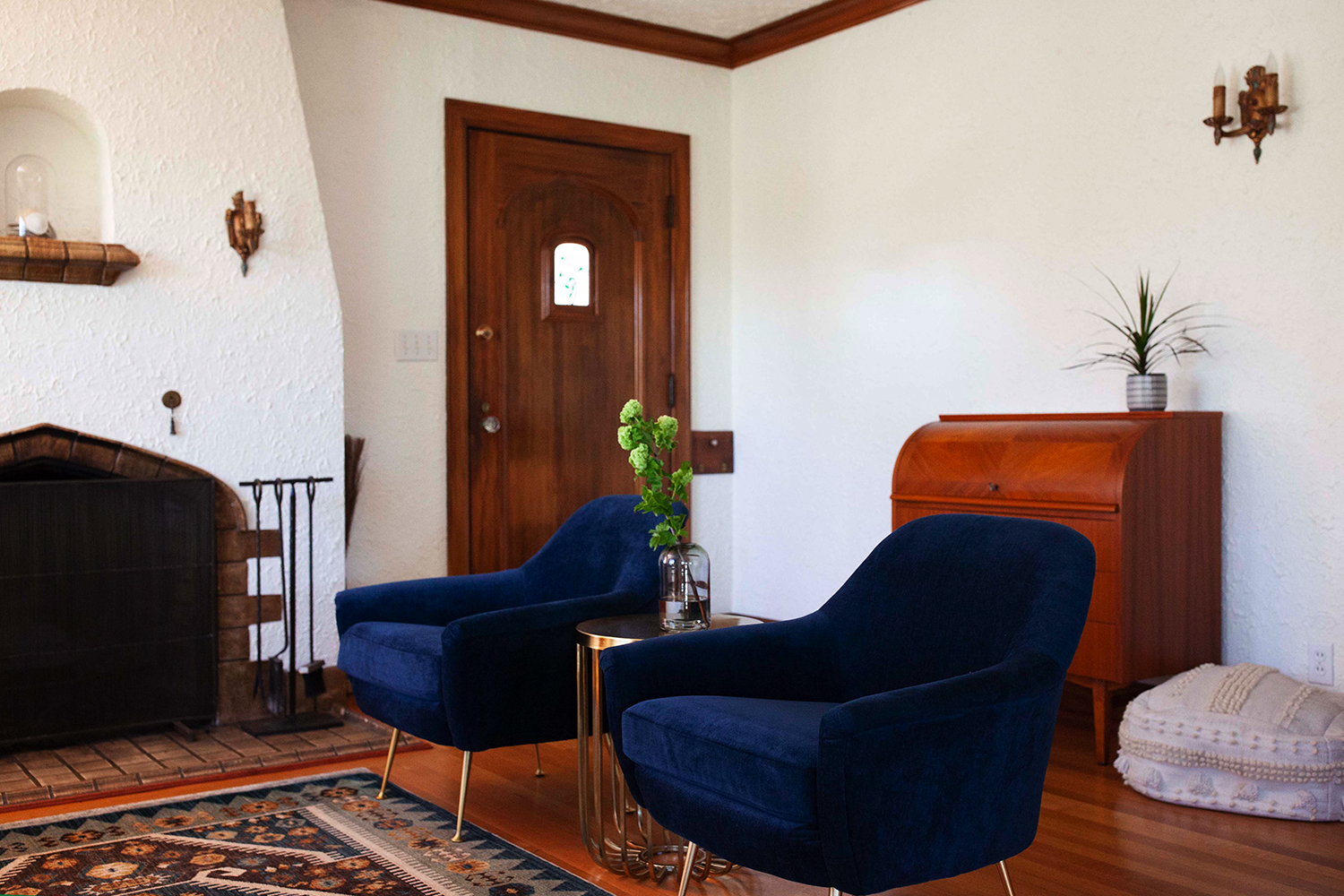 Just inside the front door of the Tudor is a fireplace, the centerpiece of the main room. "My color palette helps me experience each room in a unique way- I'm able to enjoy my living room art and furniture with Sugar Dust | 0011 as the backdrop."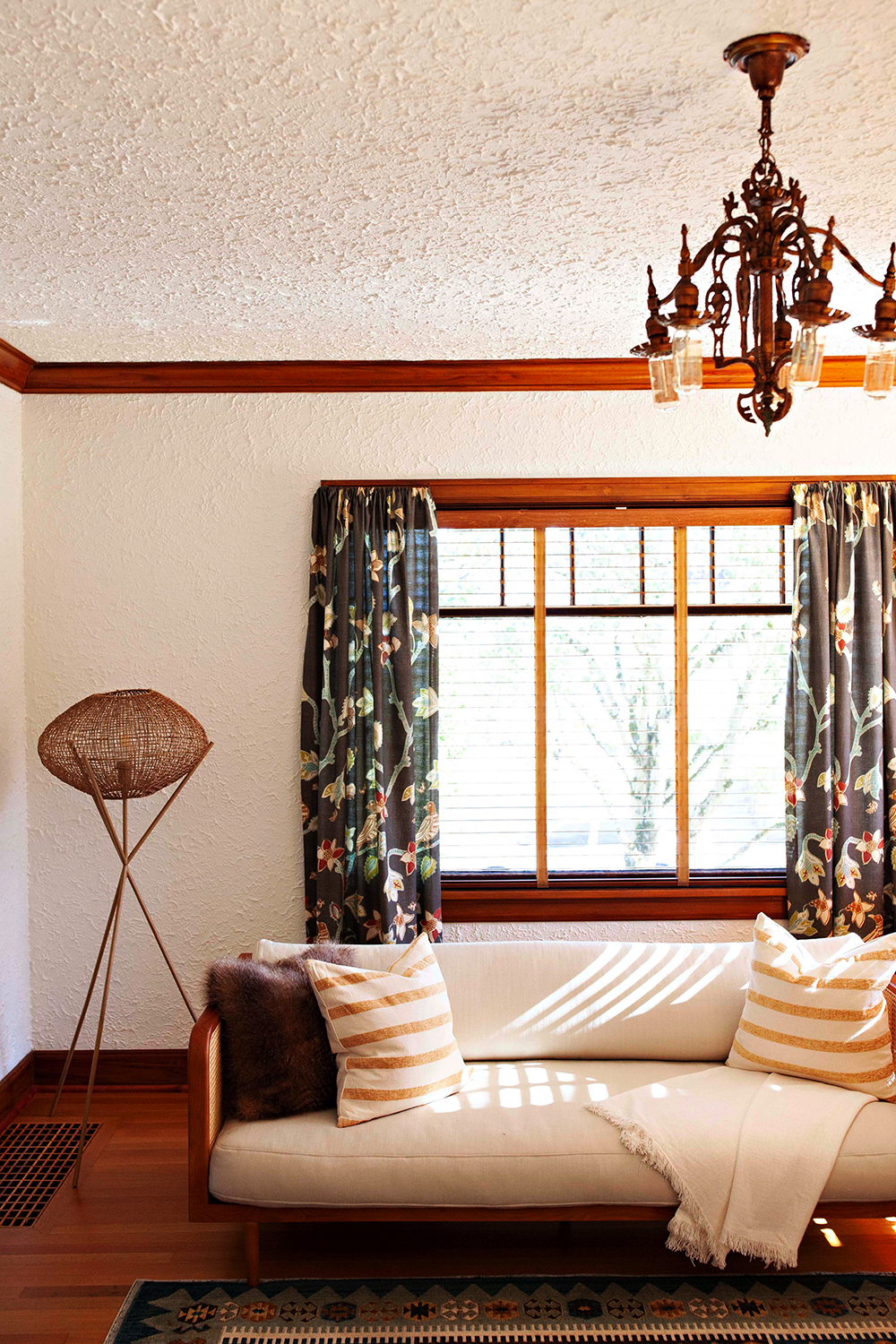 Kim's mix of antique and modern lighting, plus subtle layers of pattern and texture make the warm white palette in her living room engaging and inviting. Walls: Sugar Dust | 0011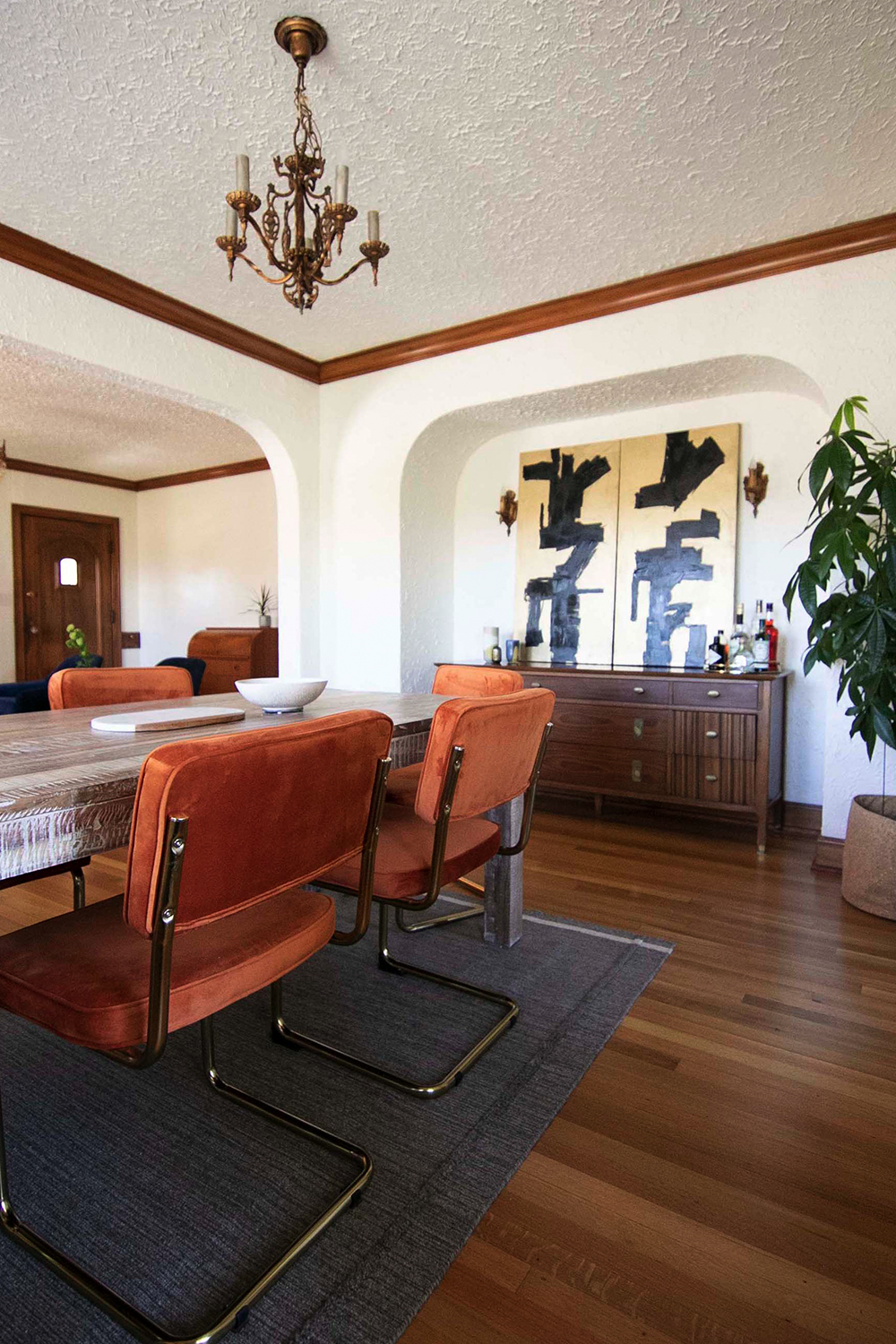 Sugar Dust | 0011 connects the living room and dining area, and serves as the perfect neutral background for Kim's dining room decor. "Orange, rust and terracotta are my favorite colors, and I ADORE my orange chairs."
What's your favorite element of your home? "I love the gorgeous original warm wood trim throughout, and the hardwood floors."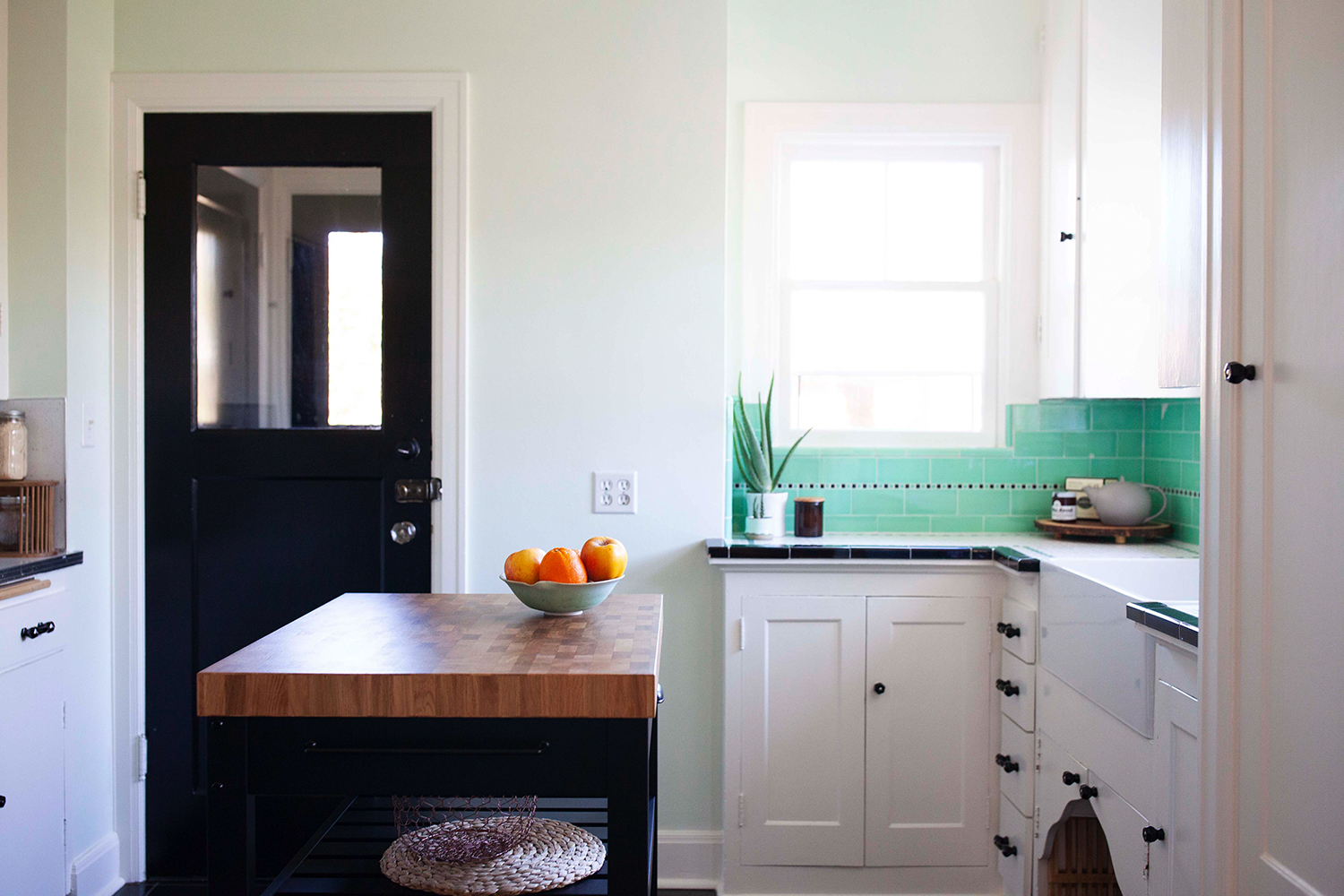 Beyond the dining room is Kim's charming vintage kitchen. She chose Miller Paint's Calm Thoughts | 0698 to subtly compliment the mint-colored tile. Opal of Lorraine | E0165 on the backdoor echoes the black accents in the tile, kitchen cart and cabinet hardware.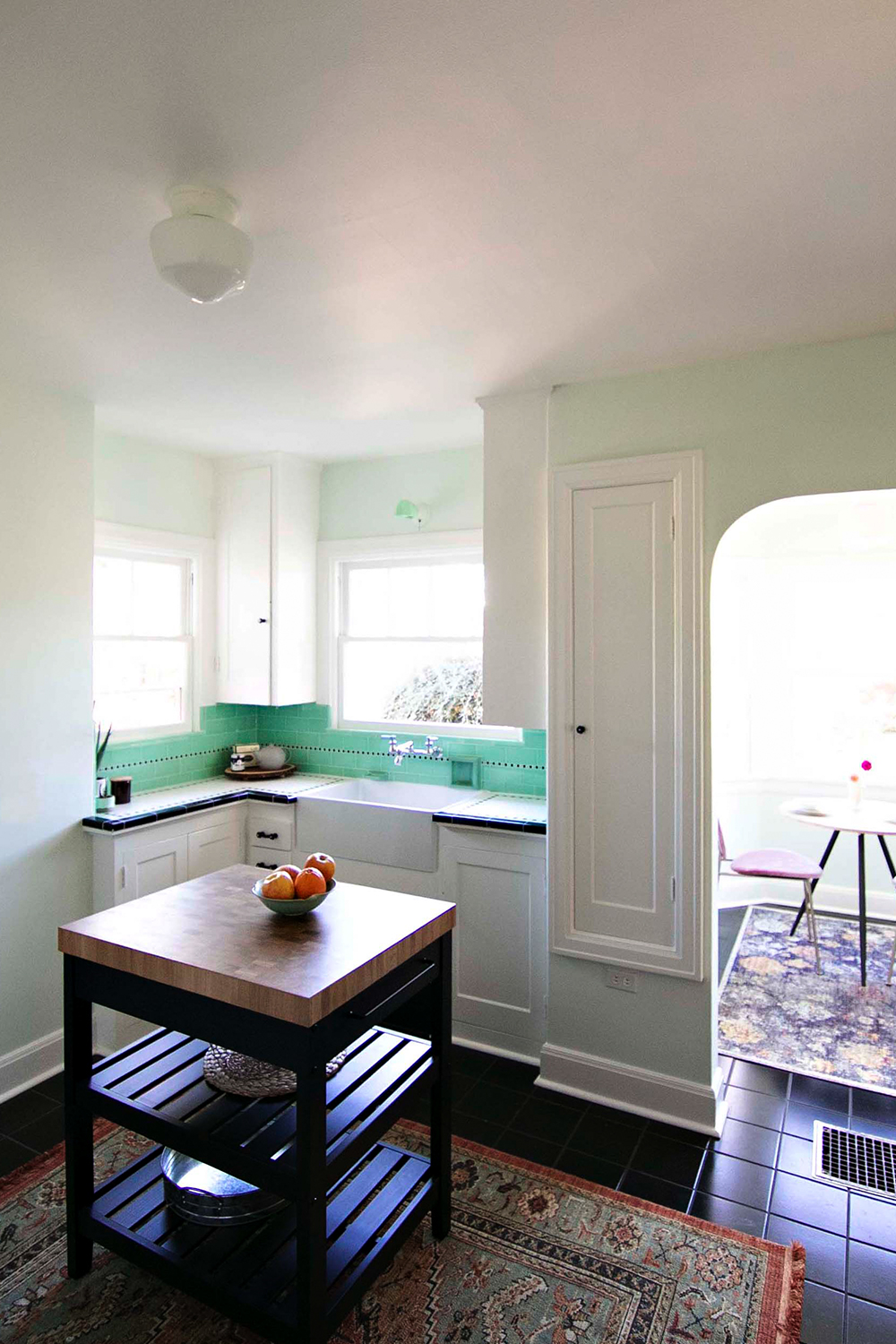 There's so much charm in this Calm Thoughts | 0698 kitchen, from the vintage built-ins to the little eat-in nook.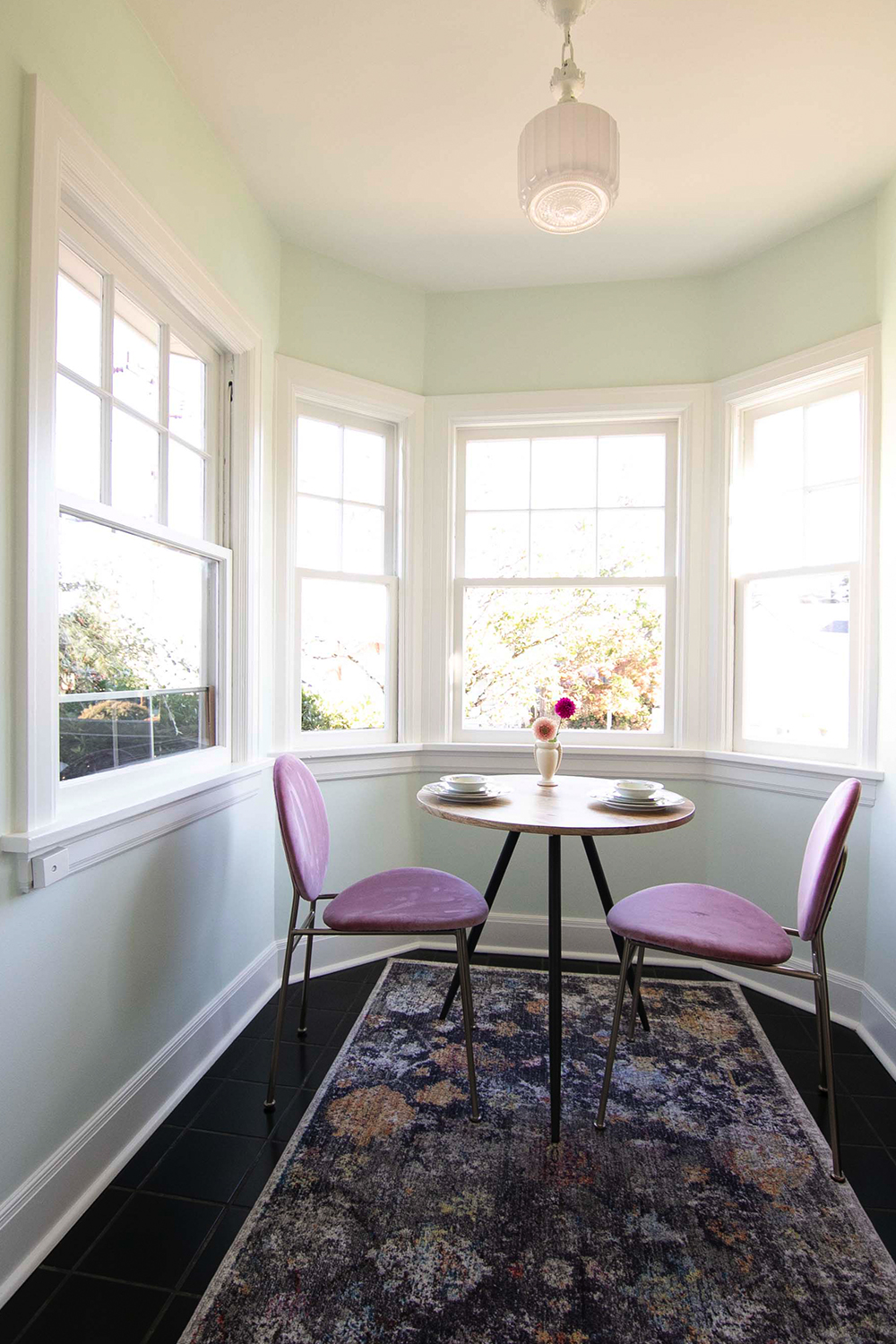 How does color impact your mood? "I am very sensitive to color. It sets the emotional and energetic tone." Kim goes on to describe her Calm Thoughts | 0698 kitchen nook as a place that makes her feel "cheerful in the morning with coffee."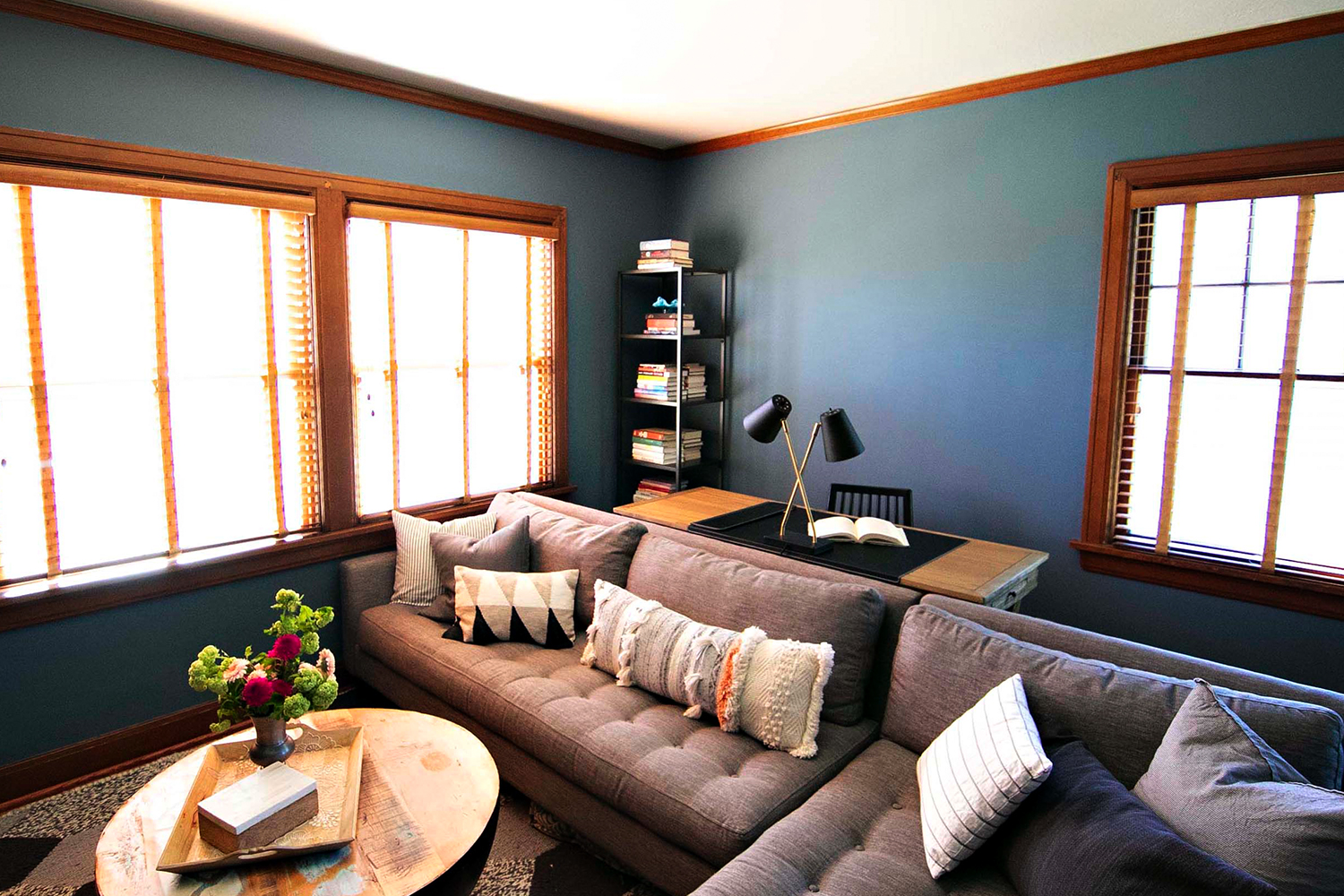 Kim works from home and relaxes in her versatile Cape Cod Blue | 0633 media room- it's one of her favorite spots in the house. "I like the den because of it's blue walls and view from the window."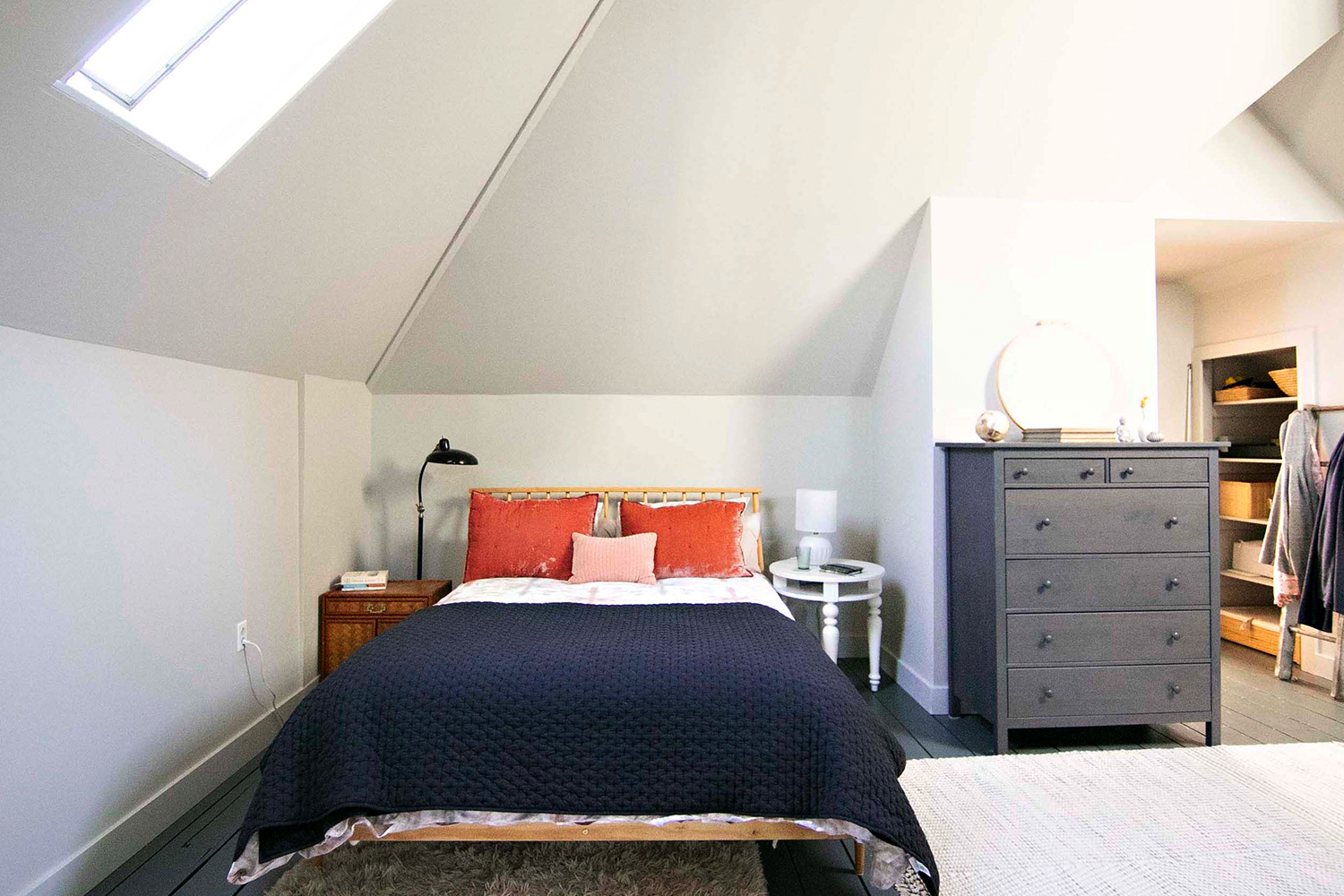 Upstairs, the Tudor's attic has been converted into a spacious loft with a sitting area and walk-in closet, another restful space in which Kim finds solace through color and design. "Metro | 0530 bedroom with its 10-foot ceilings is a calm oasis."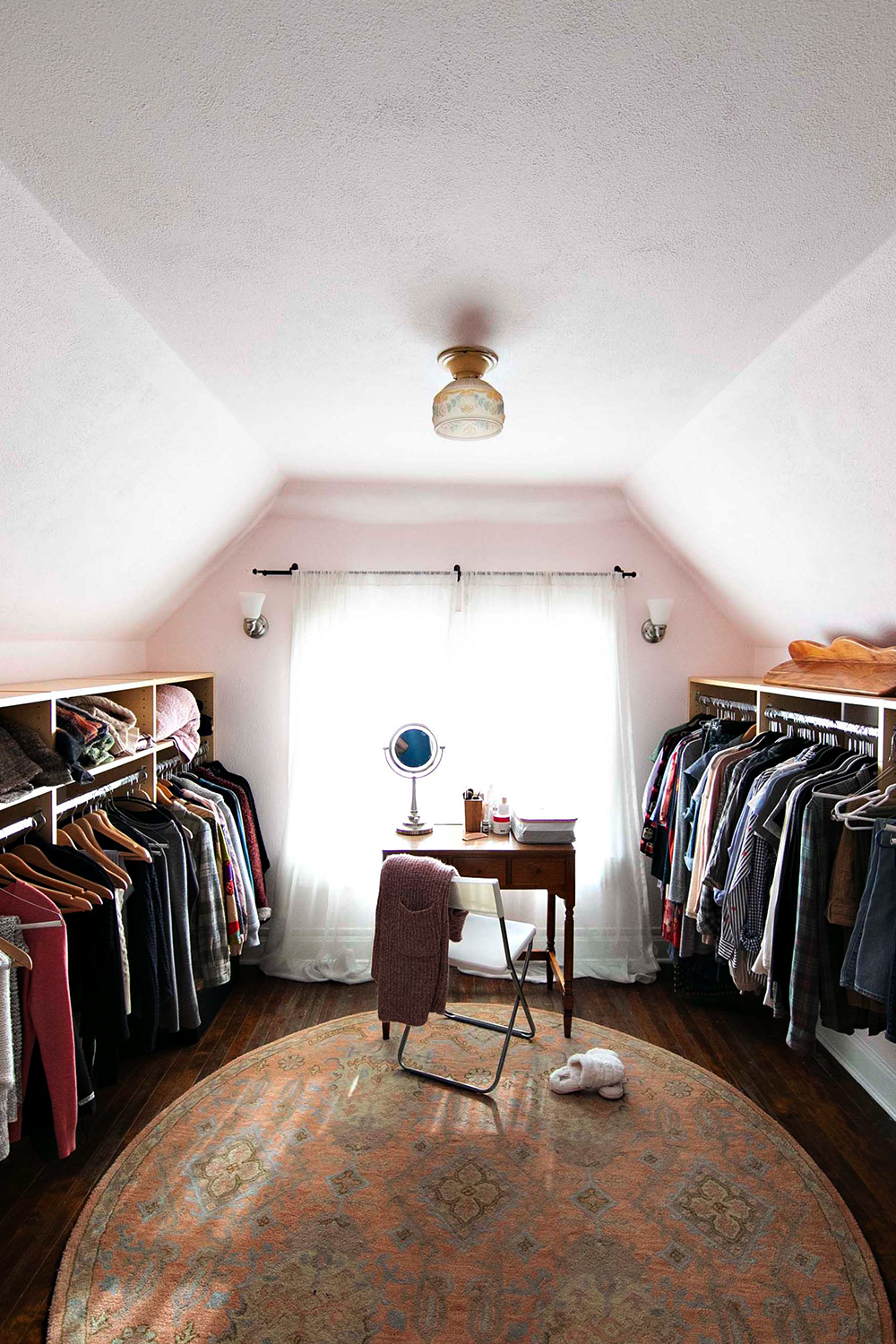 Ever inspired by the homes she tours as a realtor, Kim created a sweet place to reflect and get ready for the day in her Pink Duet | 0075 walk-in closet.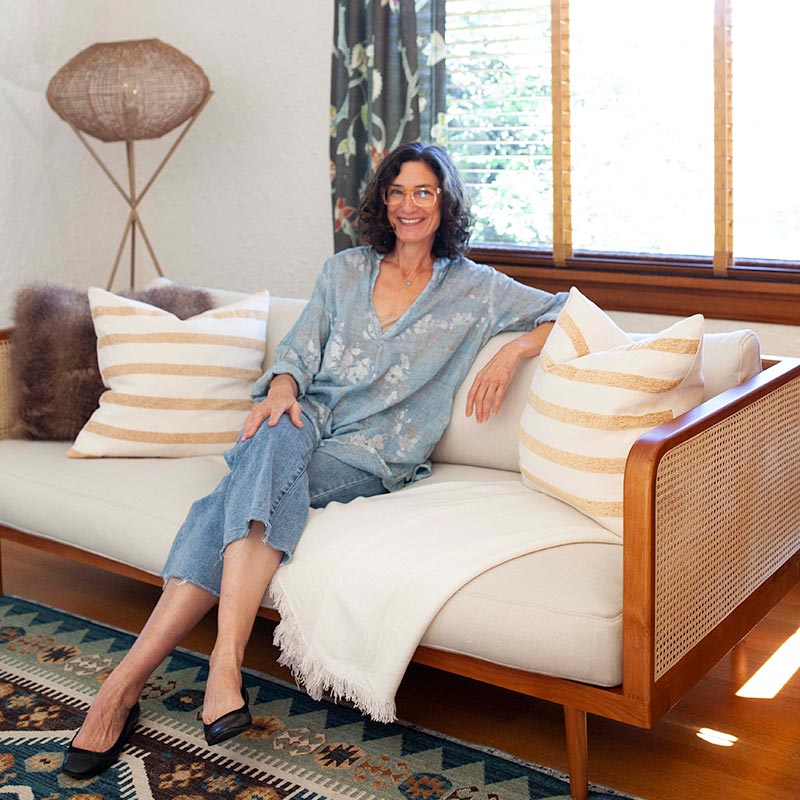 Tell us why you chose Miller Paint? "Honestly, I love the product, that they have a history in Portland, and that painters love to work with it."
Kim, thanks for sharing your home with Miller Paint!