COLOR TOUR: Sara's Stylish & Layered North Portland Home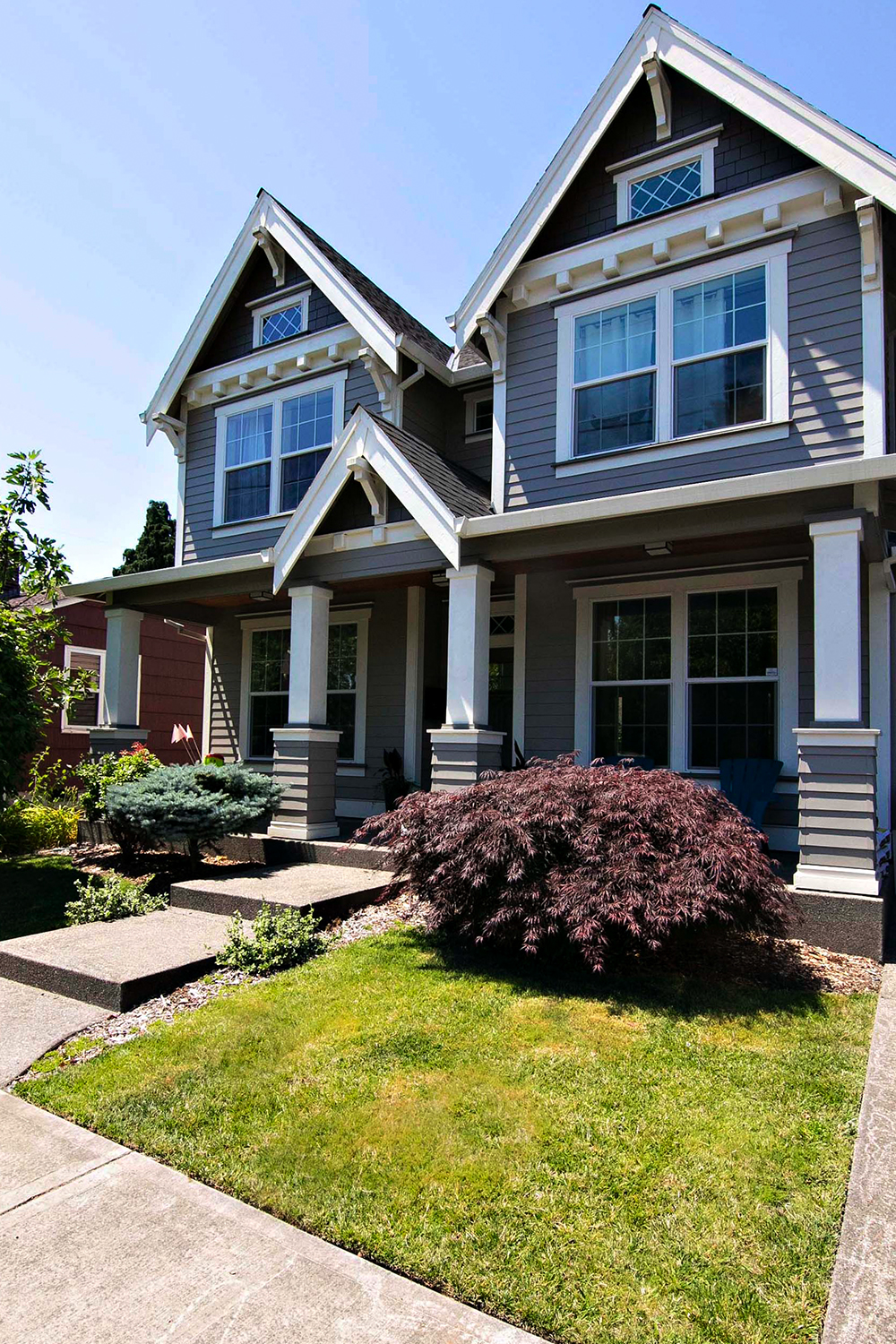 Sara's home in North Portland's Arbor Lodge neighborhood was built in 2015, but feels classic because of its architectural details and the Rain Barrel | H0113 exterior color from Miller Paint's Historic Collection.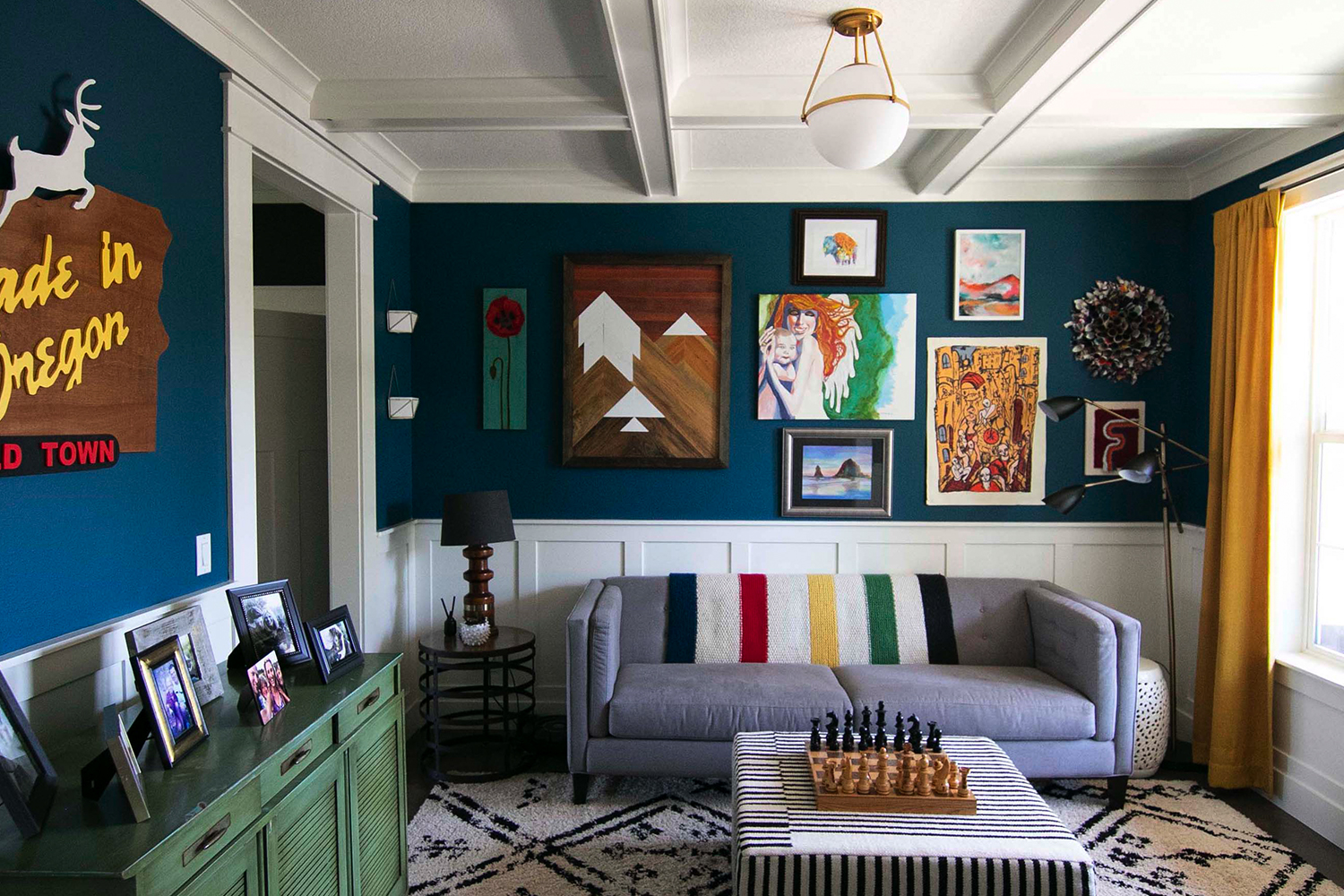 Step inside and see color! The rich turquoise of Job's Tears | 0676 looks stunning with the colorful accents, white architectural details and Sara's collection of artwork.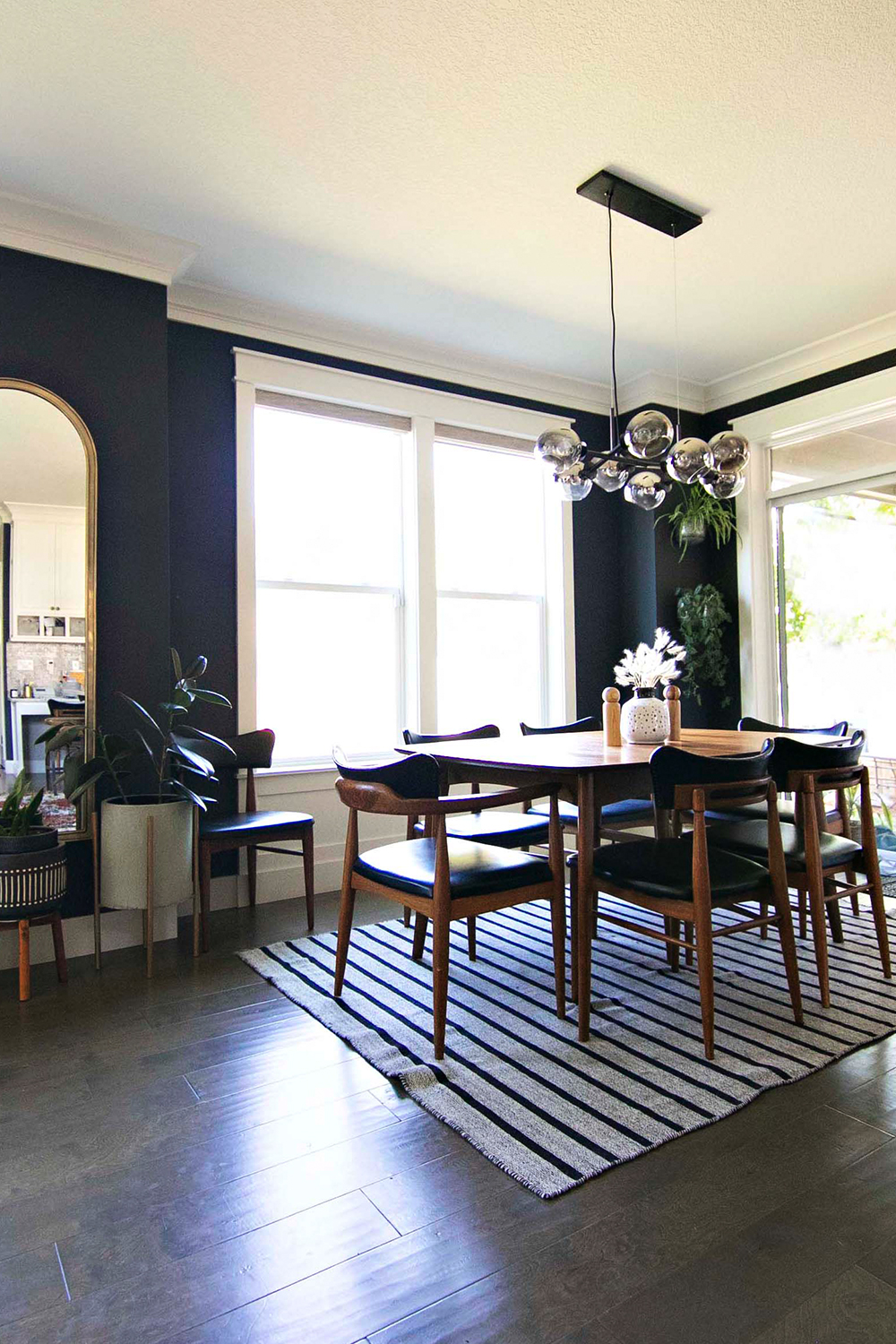 The main room of the home features an open concept kitchen, dining area and living room. Sara chose Octavius | 0522 for its rich, modern color, and loves the contrast of the black walls with the white trimwork. A vintage mid century modern dining set with a contemporary chandelier complete the look.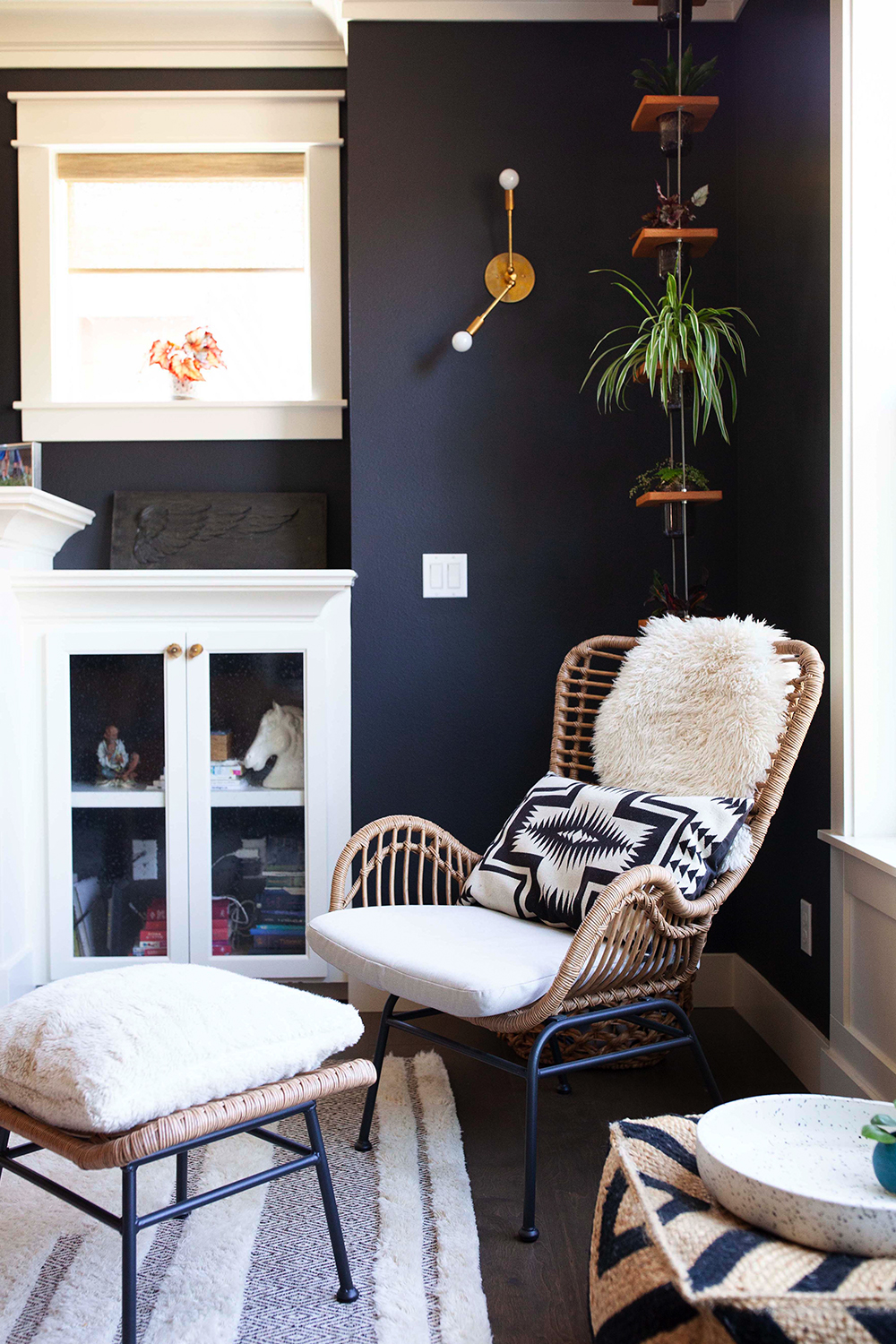 Another corner of Sara's Octavius | 0522 living room with great light for her plants, and a cozy chair for reading.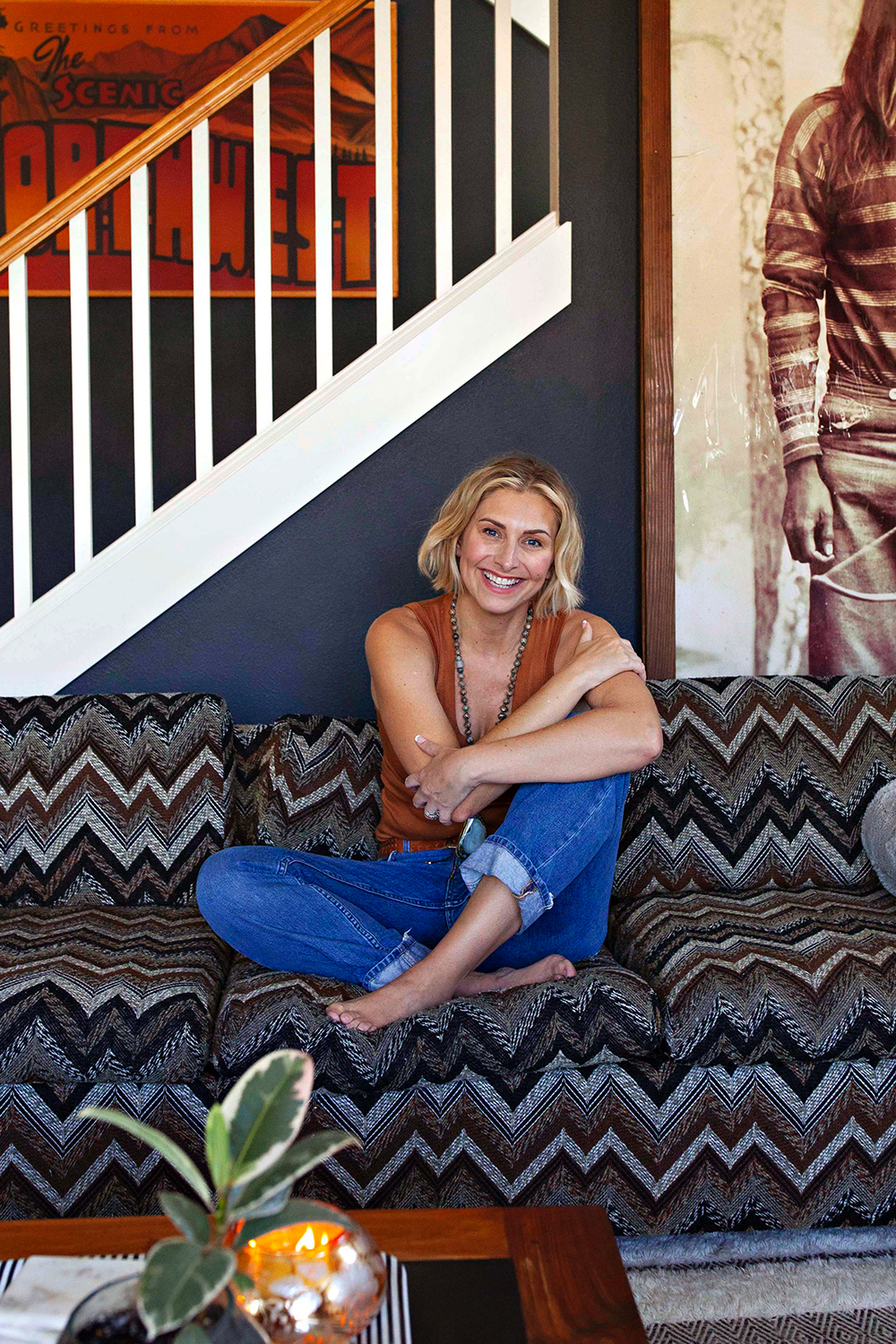 Sara loves to use textures and a mix of styles in her North Portland home. The Octavius | 0522 walls are the perfect modern neutral to tie everything together.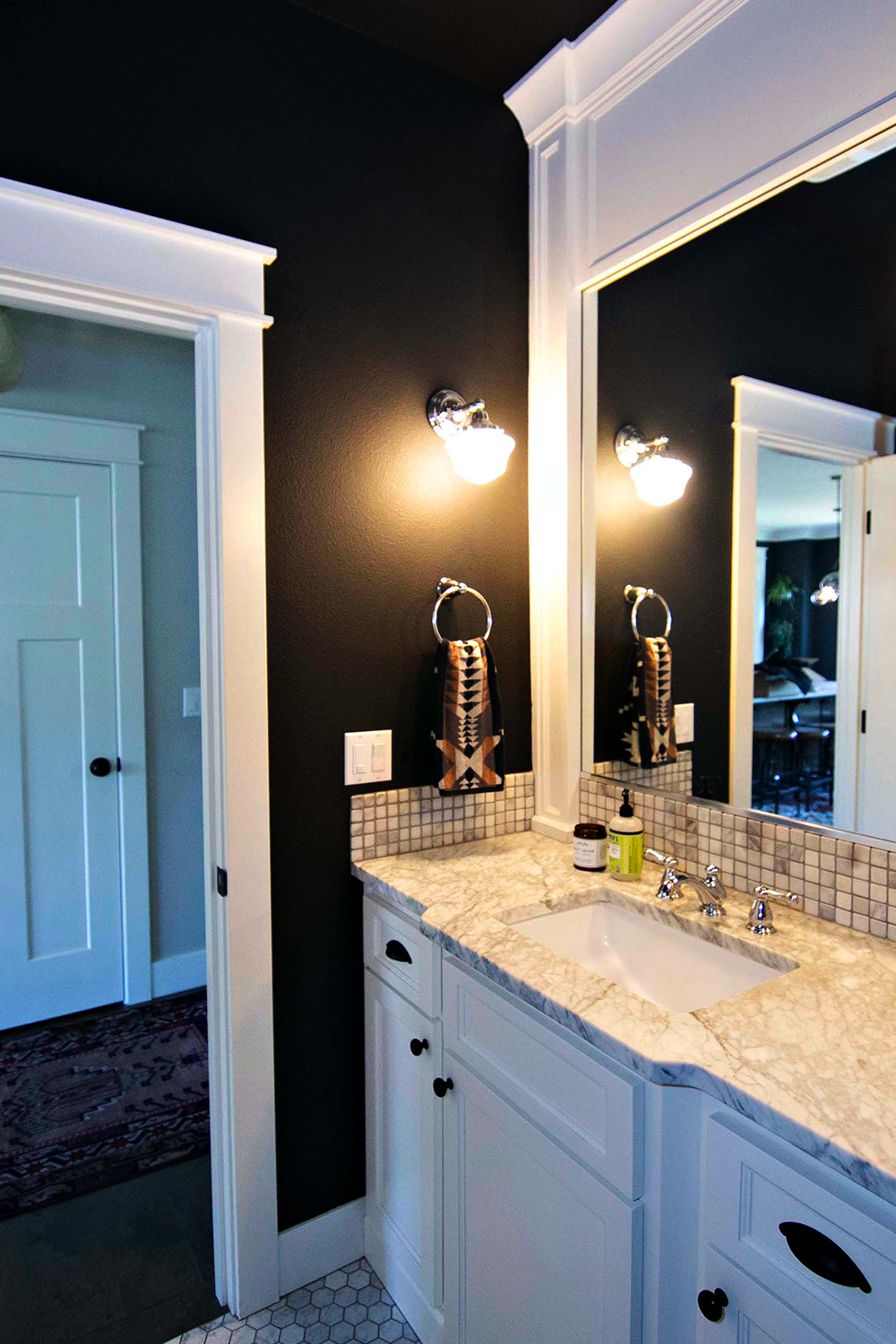 The main floor powder room fits right in with its dramatic black Octavius | 0522 walls paired with stone, tile and white trim.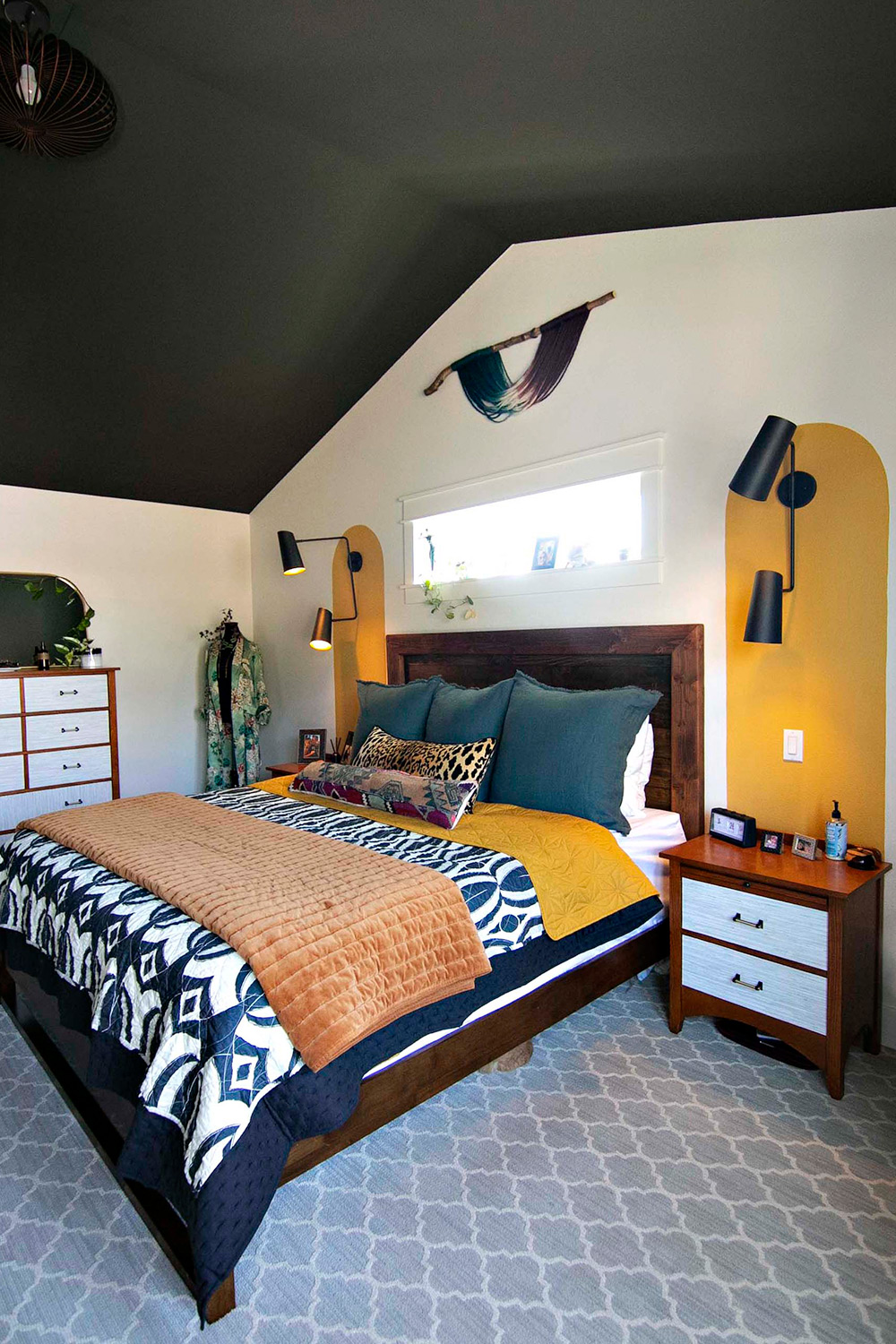 We love how Sara and Shawn's en suite incorporates pattern, texture and color! Sara chose Cat's Eye marble | 0906 for the arches she painted behind the bedside tables, and Subway | 0536 for the high ceiling. The walls are Nilla Vanilla | 0003.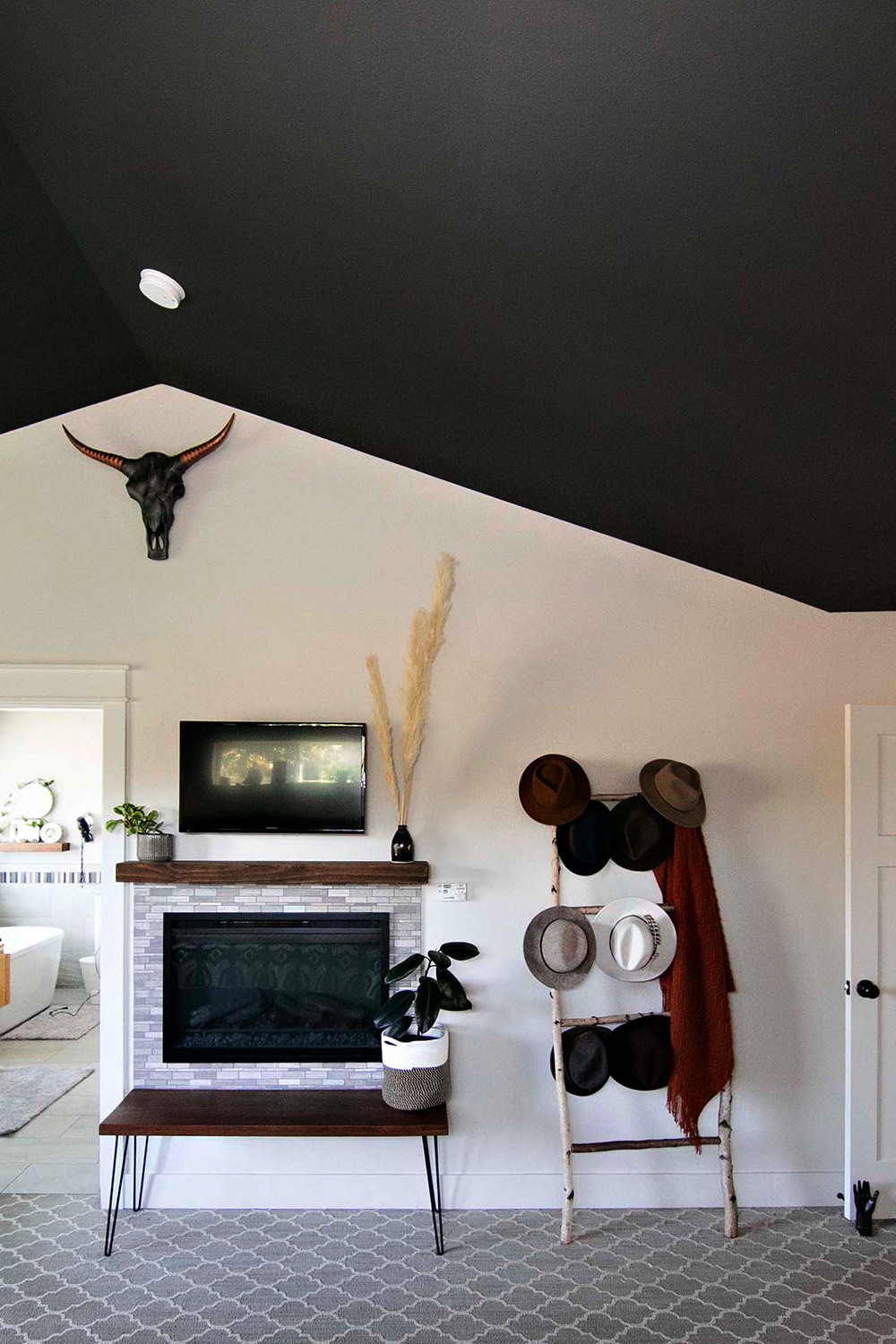 Nilla Vanilla | 0003 walls
Another angle of the home's primary bedroom and the beautiful contrast of the Subway | 0536 ceiling and Nilla Vanilla | 0003 walls.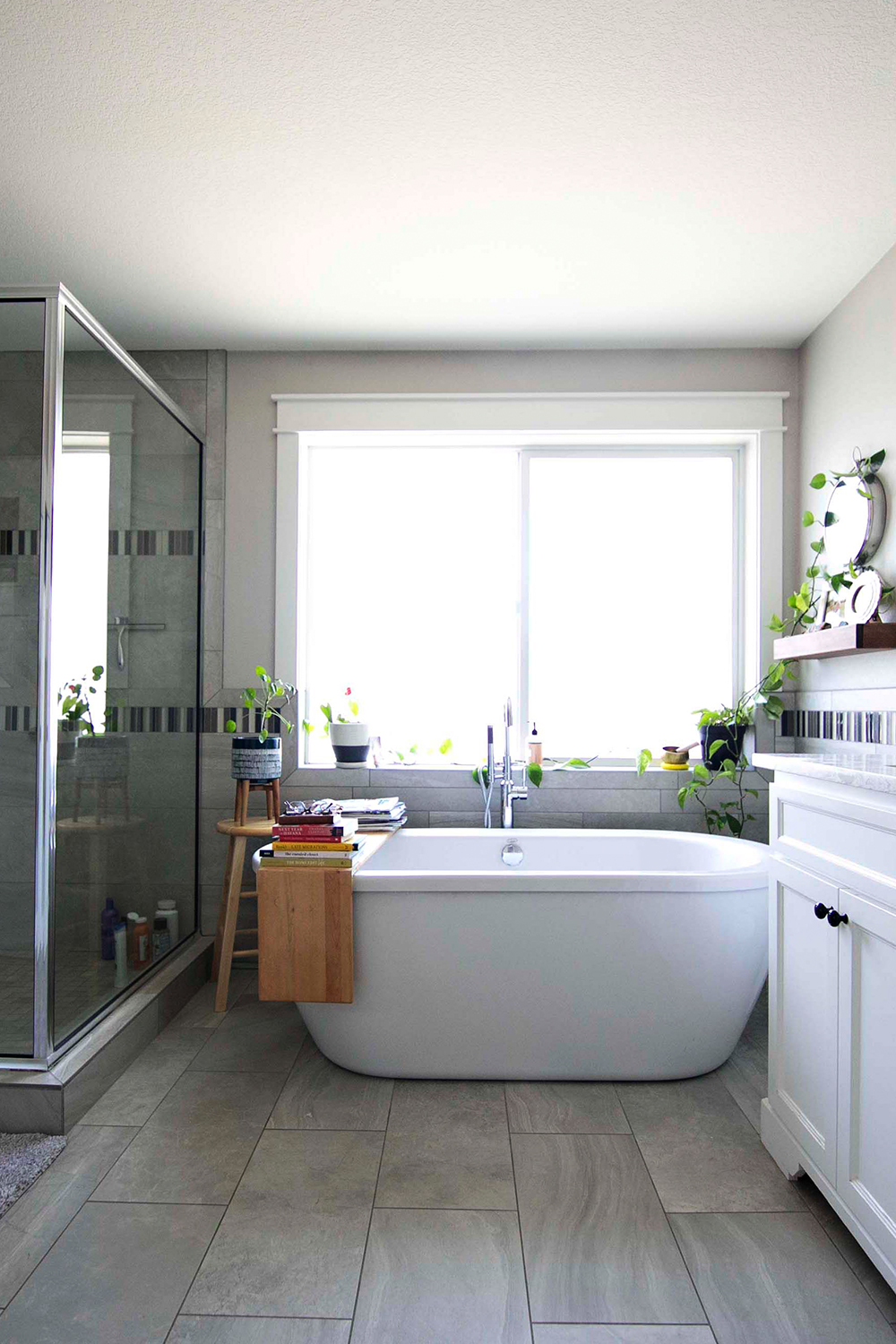 Sara's beloved tub is one of her favorite spots in the house. The room is painted a soothing shade of gray called Place of Dust | 0539.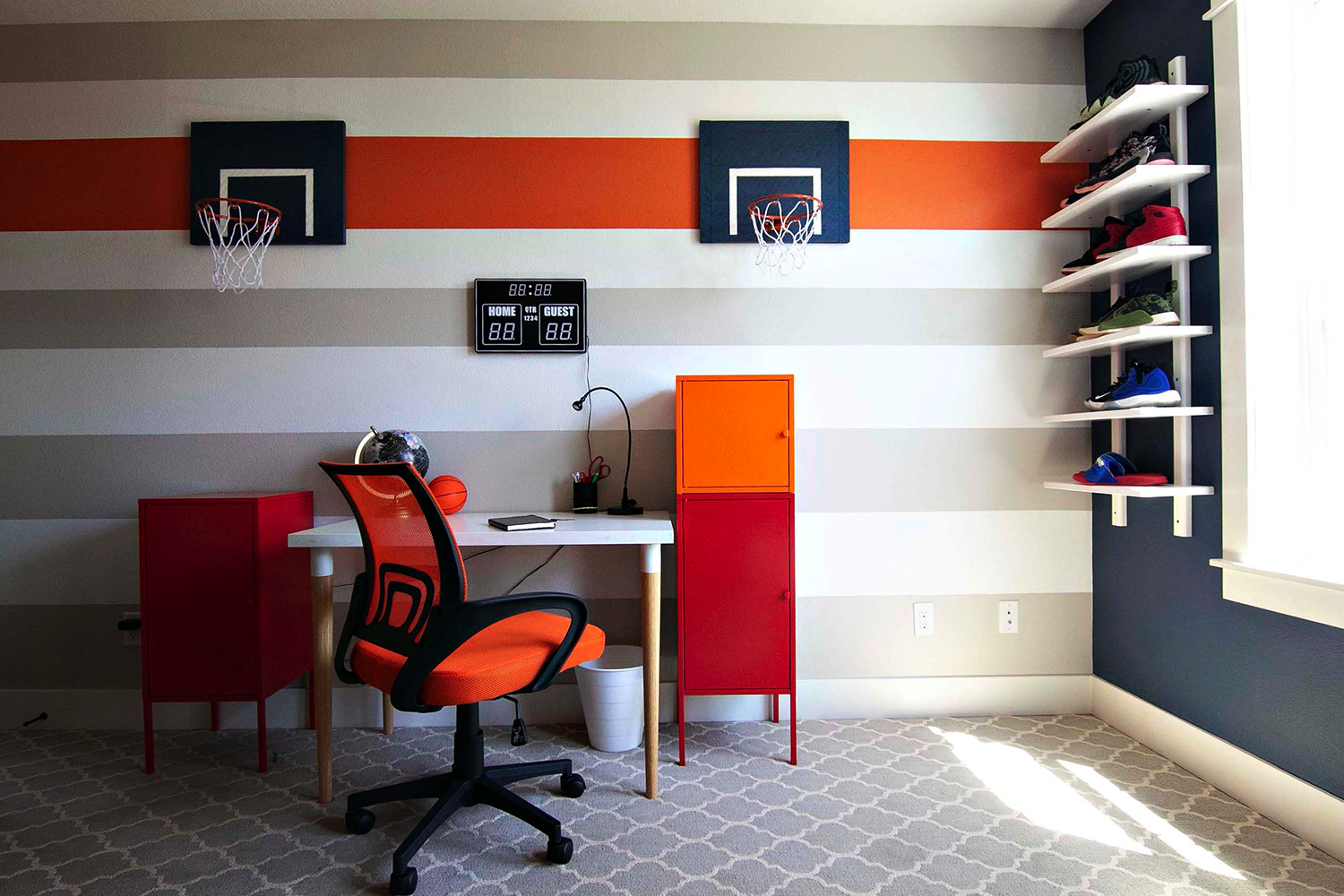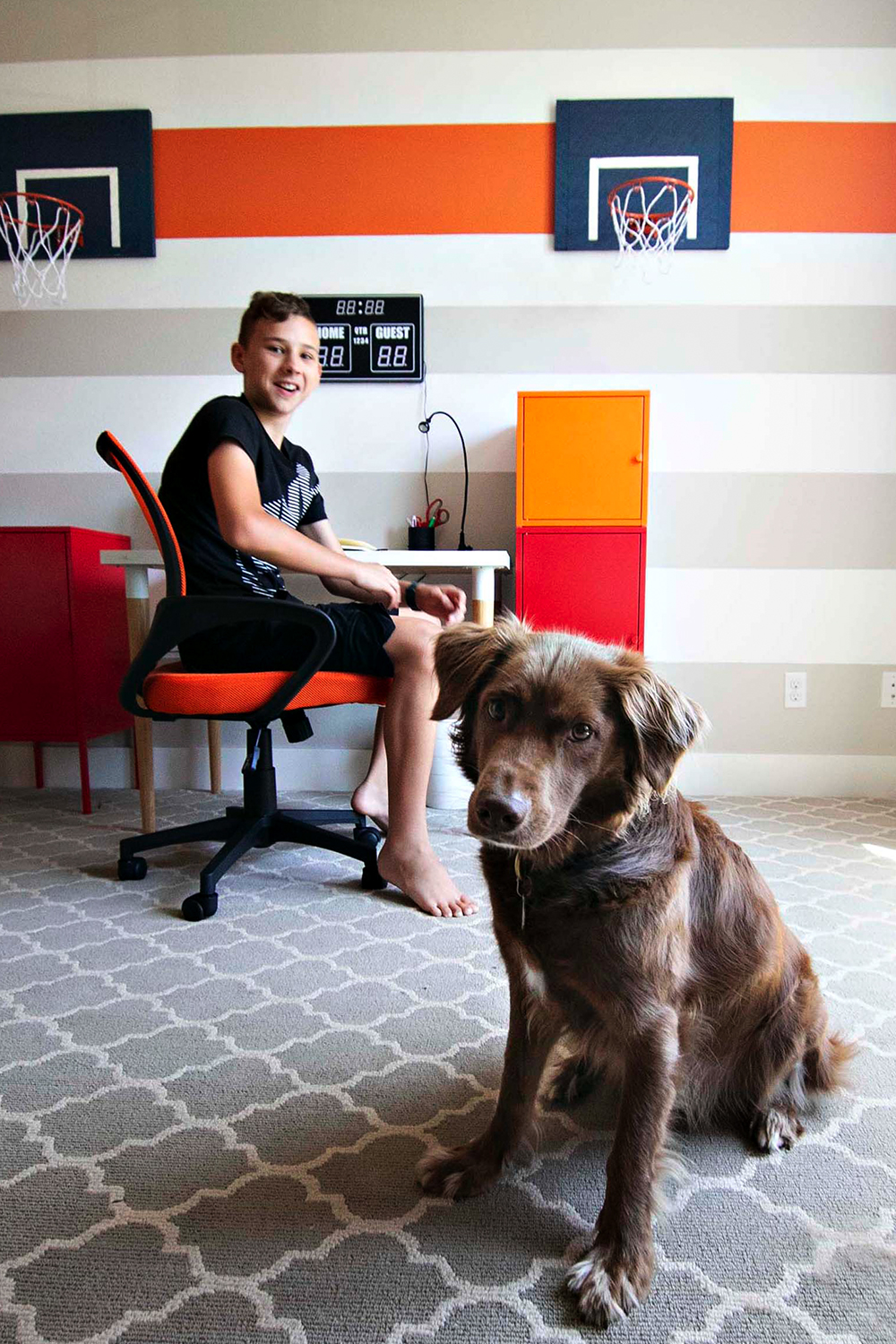 Sara's older son AJ is a big basketball fan, and wanted a fun room to reflect his love of the sport. Sara designed a feature wall using alternating stripes of Nilla Vanilla | 0003 and Place of Dust | 0539 with just one vibrant stripe of Starfish | 1047. A shelf to display AJ's sneaker collection pops against the deep blue of Quiet Peace | 0592.
Sara's son AJ (13) and rescue dog Houston love to play in AJ's colorful room. Walls: Nilla Vanilla | 0003, Place of Dust | 0539 and Starfish | 1047.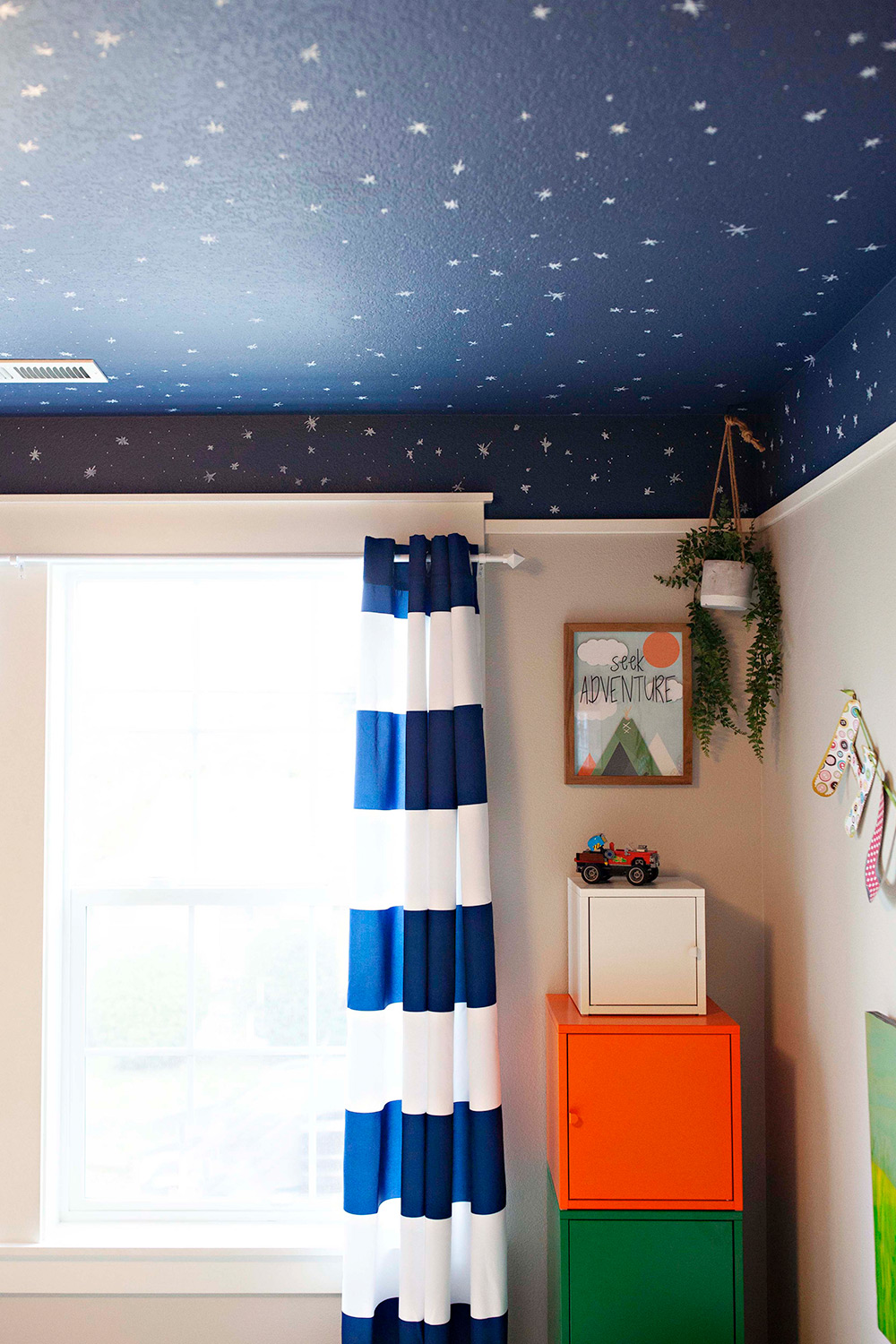 Into the Stratosphere | 0627
Sara's younger son Hudson wanted a starry sky in his bedroom, and Sara delivered! Into the Stratosphere | 0627 was the perfect night sky blue for hundreds of hand painted stars.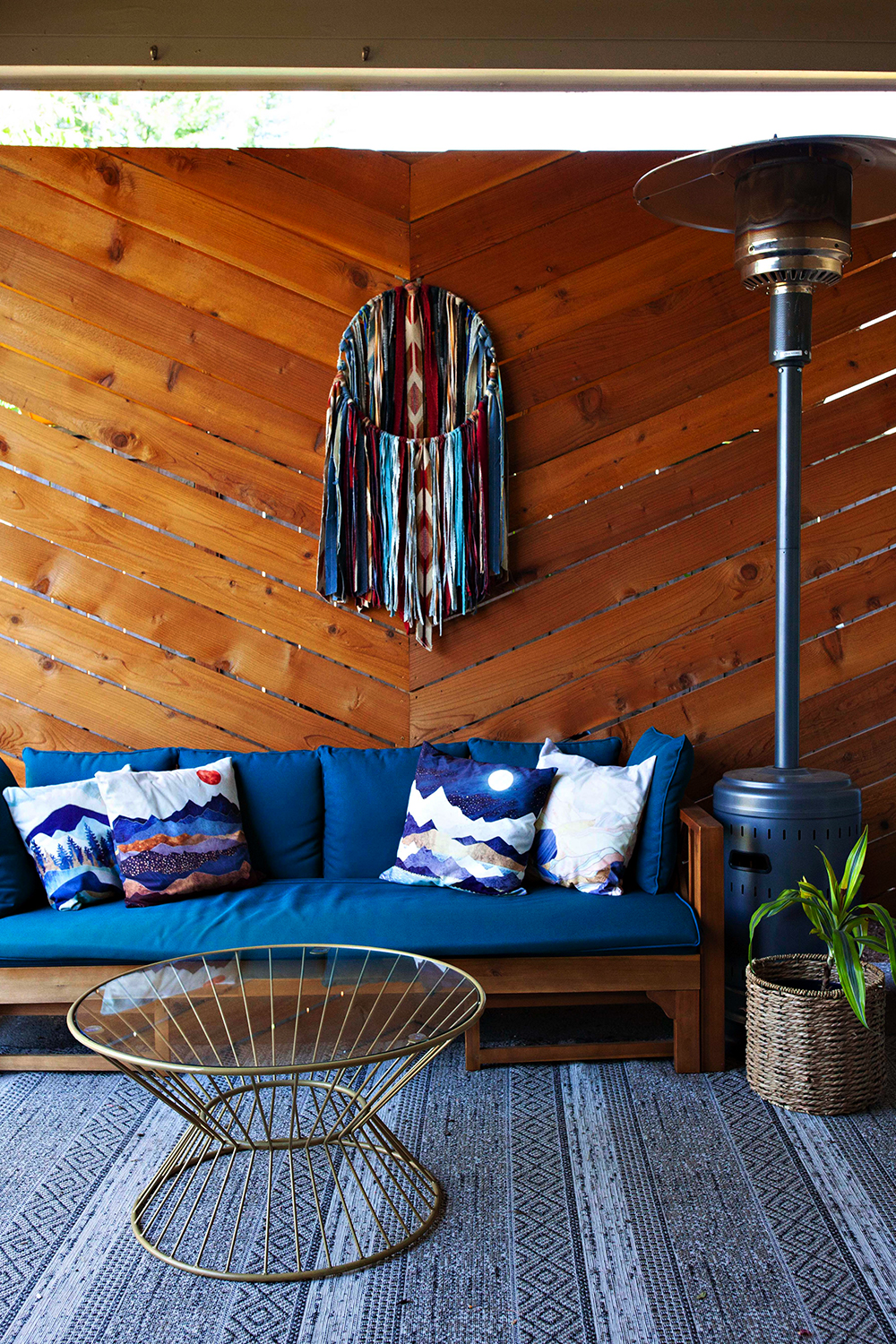 Just off the dining room in the family's backyard is an outdoor living room that's a favorite place to visit with friends. Sara and Shawn built the chevron accent wall together and the fiber art is by Sara.
Sara, thanks for letting Miller Paint take a COLOR TOUR of your beautiful home!