Entryway Makeover with Woonwinkel's Kristin Van Buskirk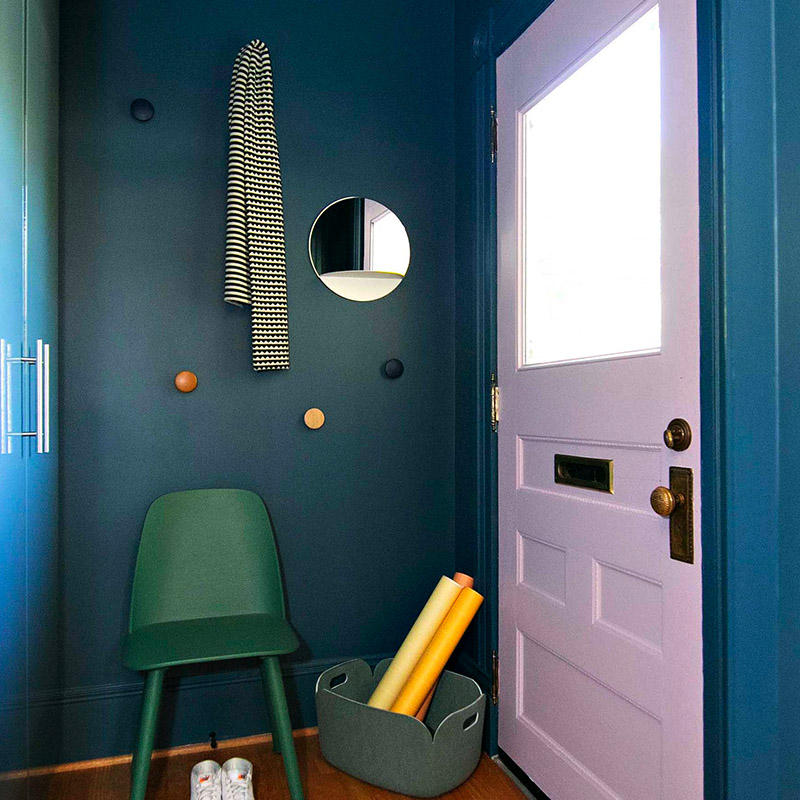 Kristin Van Buskirk, owner of one of downtown Portland's most colorful shops Woonwinkel, recently repainted her entryway in the stunning cool color combo Day Spa | 0634 and Desiree | 1219. Read on for the design inspiration behind her weekend project.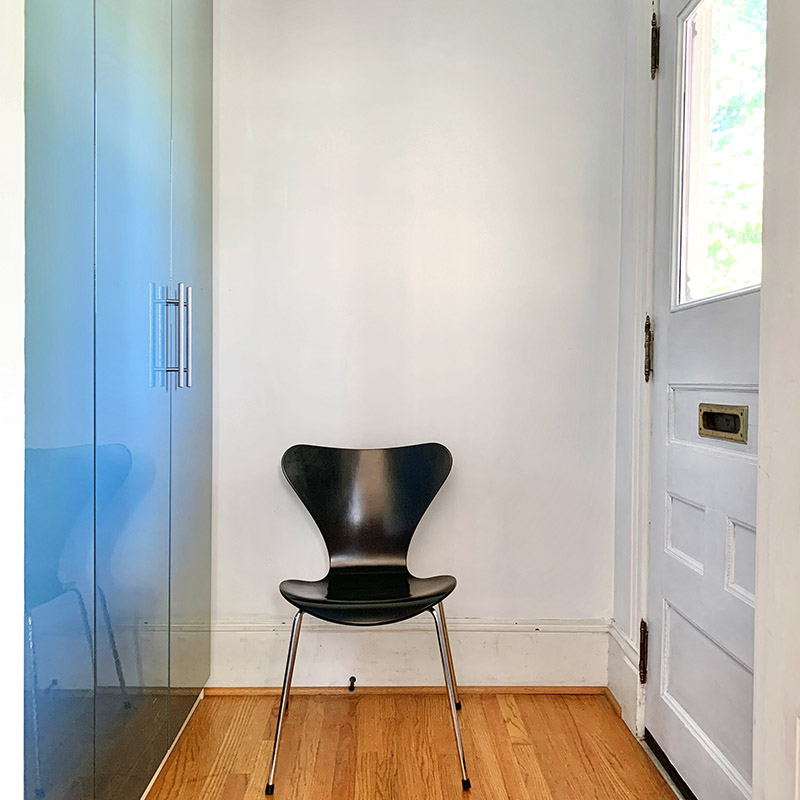 What was the inspiration behind your entryway makeover?
My whole family is suddenly out of the house more. That makes coming home special again. We decided to freshen up our entryway to reflect how we want to feel when we come home from a busy day. I've been a color designer for over 20 years, so I think a lot about how color affects things like mood, focus, and space.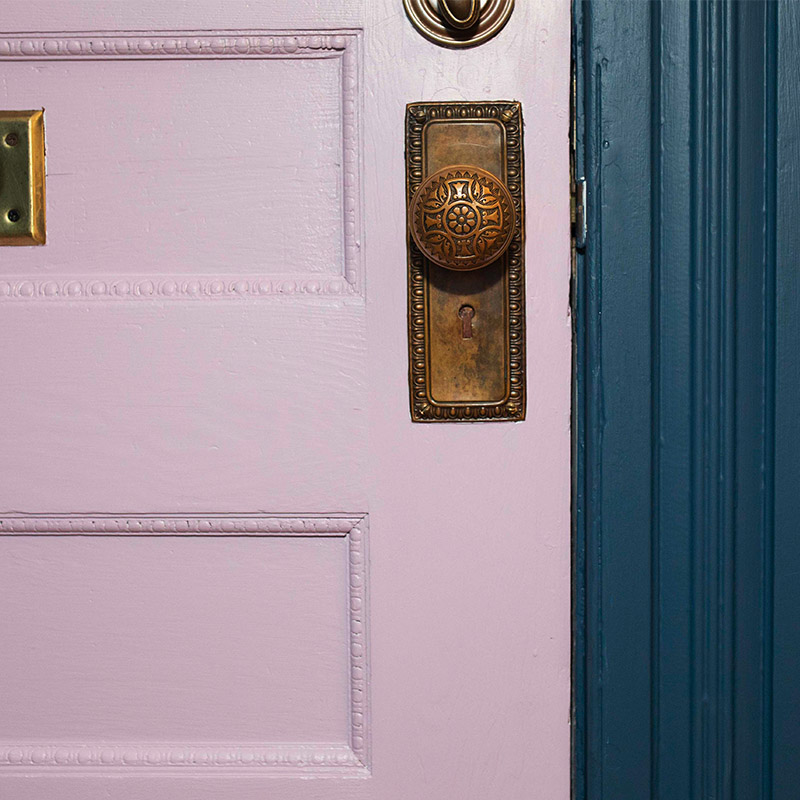 You used Day Spa | 0634 on the walls – a rich navy blue – and Desiree | 1219 – a light orchid hue – on the door.  What do you love about this color combination?
All of these colors are on the cool side of the color wheel, which makes us feel calm as we enter the house. Blues and greens and violets have shorter wavelengths of energy which actually calm our nervous systems. The deep richness of Day Spa is grounding, whereas a light tint like Desiree is still calming but in a more ethereal way. I love the combo visually, and I love how it brings us a dose of just what we need when entering or leaving.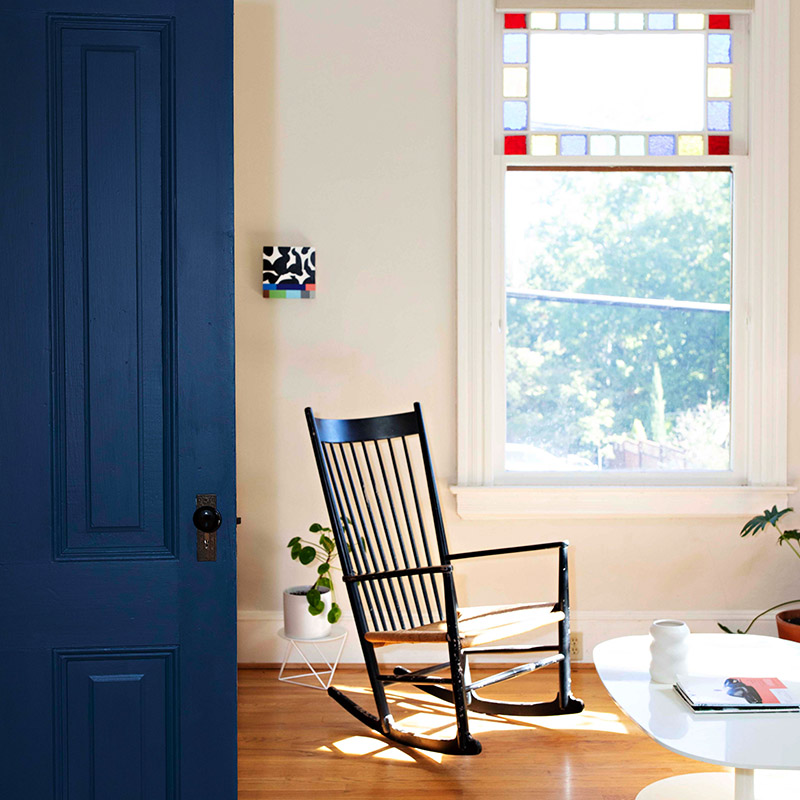 Your home is an 1890's Victorian and your style is more contemporary. How do you blend these two very different design points of view to create a cohesive aesthetic in your home?
I feel very flattered that you'd consider our aesthetic cohesive. It's so pieced together from thrift finds that I call it "Craigslist Complementary". We have a bit of a mishmash of secondhand furniture to work with so trying to fit contemporary furnishings into our Victorian home felt like no greater of a challenge than pulling together so many disparate pieces.
The nature of our little Victorian rooms does cause us to consider things like the scale of our furniture (no big sectional sofas for us) and where to carve out storage (build up, up, up). And we use tricks like painting the trim the same color as the walls, as we did in the entryway, to create a more modern streamlined aesthetic.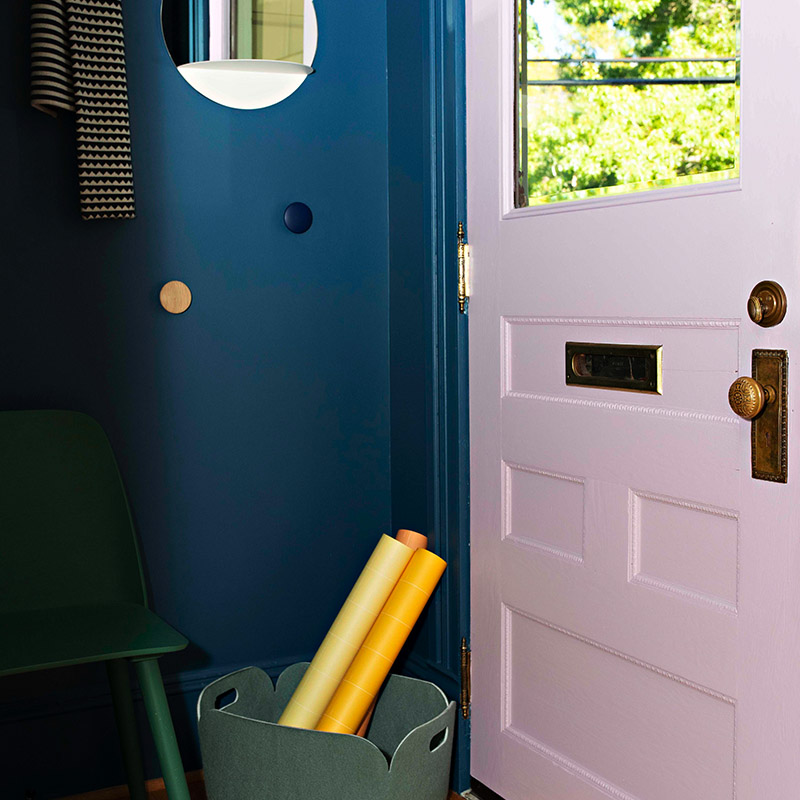 Entryways are often very functional spaces in a home. What were the must-have elements you had to include in yours?
In the rainy Pacific Northwest of course we need hooks, hooks, and more hooks. We've usually got wet rain pants, coats and more hanging from our Dot Hooks by MUUTO. But when everything's dry we can tuck it all away in the closet and have a really fun-looking constellation of dots. We also have locally made hooks by Merkled Studio right by the door where we hang leashes. Their hooks are great indoors or out, by the way, because they're made of aluminum so they won't rust.
We also wanted a landing spot for phones and keys. Horizon Mirrors by Normann Copenhagen come in a few shapes, sizes, and colors and add light through reflectivity as well.
A place to tie shoes or drop a package is a must. I love how the green Nerd Chair by MUUTO looks with all these layers of blues and greens.
Last, the Restore Basket by MUUTO is a place to stash odds and ends.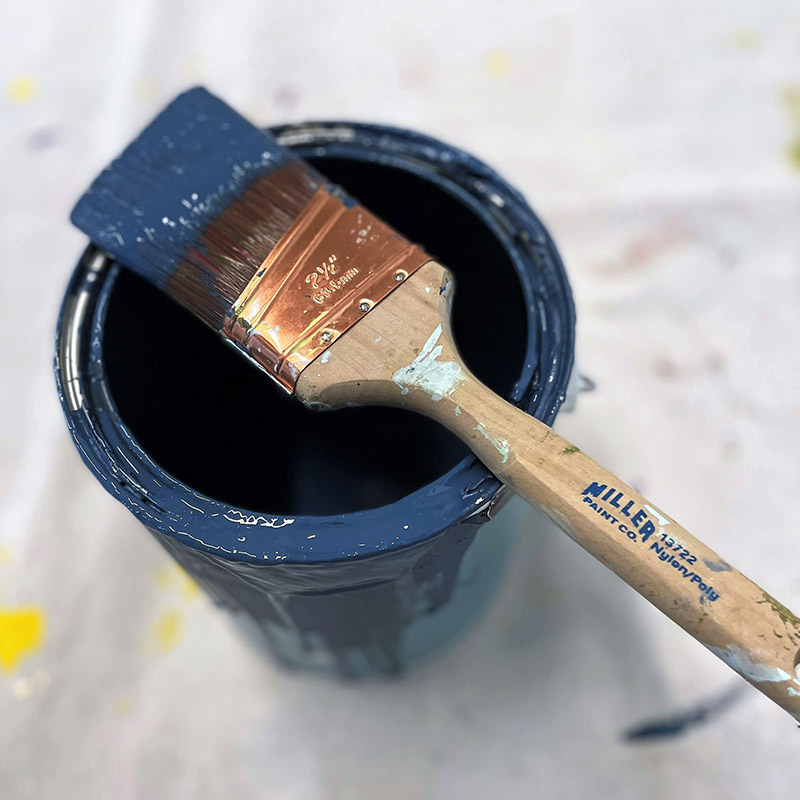 You used Miller Paint's Evolution wall paint for your makeover. What did you like most about the paint and painting process?
Evolution is Miller Paint's highest quality paint, which I had never used before. I instantly realized I need to go for the best quality paint EVERY time from now on. The paint was really thick and the coverage was excellent for the deep, rich navy color Day Spa. It was also really easy to work with. I learned my lesson—go for quality.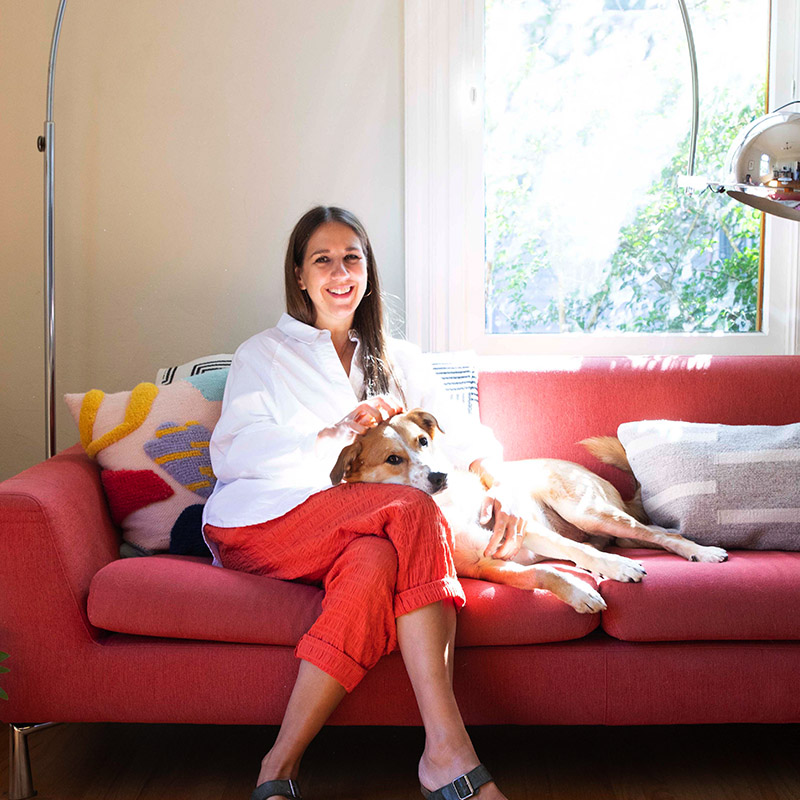 Any design tips for those looking to makeover their entryway?
You can make your entryway cohesive with the mood of the rest of your house or you can use it as an opportunity to do something a little different. You don't spend a lot of time in an entryway so think of it as a "moment".  What do you want to feel when you enter your house? Maybe you'll want to breathe in rich color if the rest of your house has a subdued palette. Or you could use it as a moment of calm before entering a bustling household. A darker entryway will make your other rooms feel even lighter after you pass through. Get the most out of your entryway by considering not only its function but how it can set the right mood when you come home.
Feeling inspired? Browse all of our colors here. >